Broncos bring the heat in a 2-0 win over Conant
Barrington now tied for the lead in the MSL West
By Gary Larsen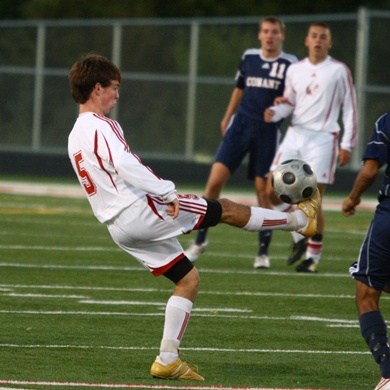 There's never been a substitute for intensity in soccer and Barrington reached new heights with that quality on Friday night.
The victim of the Broncos' intensity was Conant.
"I was very pleased with our effort tonight from beginning to end," Barrington coach Scott Steib said, after his side's 2-0 MSL win over the visiting Cougars.
Barrington got goals from Charlie Giovenco and Lasse Haataja and posted its first shutout against an Illinois opponent this year.
On Thursday, Steib provided his boys with a little extra motivation after Wednesday's 2-1 win over Elk Grove.
"We didn't come out strong in our last game, and yesterday's practice really got us back into wanting to work," Giovenco said. "Steib told us we needed this game to be back on top (of the MSL) and that's what we wanted."
The Broncos improved to 6-6-2 overall with the win, and 4-2 in MSL play, putting them in a tie atop the MSL West with the Cougars.
It was also Barrington's sixth win in its last eight games, and fourth shutout of the season.
Giovenco and Max Mohr slid from their midfield spots to the back line for Friday's game, while Haataja and Nikko Maher moved to the midfield from their usual positions.
"Even though we've been winning, we've been giving up goals," Steib said. "I put Max and Charlie in back because they're just a little bit grittier. And Max is the fastest kid on the team so if he does get beat, he's going to catch up."
The Cougars were never able to implement the smooth attacking style that suits them, courtesy of the Broncos' lunchbucket effort to slow them down throughout the contest.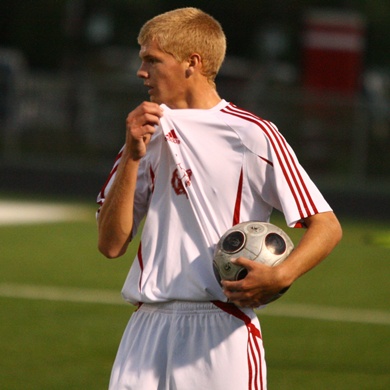 "We knew it would be physical and I don't know if we were prepared for just how physical it was," Conant's Michael Zentner said. "But we should know that people are going to try to come out and push us around. We have to handle it better."
Steib knew what to expect from a Conant team that likes to pass it around the park.
"I was worried about (Shivam) Patel and (Nathan) Cornell," Steib said. "I liked Patel a lot last year. They whacked us (3-0) last year and he was magic in the middle… but you know, I'm kind of a believer in us doing what we need to do, and not worrying too much about the other side."
Barrington struck first when Dan Barber sent in a free kick from roughly 50 yards out, in the game's 30th minute. Giovenco started offside, came back onside, and made his run.
His head shot beat Conant keeper Bobby Potratz at the far post, and the 1-0 lead held to halftime. The Barrington attack has been a work-in-progress, and midfielder Craig Zahour likes the development he's now seeing.
"We know where we're going now, and at the beginning of the season we had no idea what was going on," Zahour said. "We're making runs off of each other and the forwards are doing a lot better now."
One of those forwards is new to the attacking third – senior Haataja, who hails from Finland and scored at the near post in the game's 72nd minute.
"Lasse has been playing up front and he's learning how to play up there," Steib said. "He played nothing but outside back in Finland. We threw him up there a couple games ago because he has really good technical skill, and he's smart. We put five goals in against Hersey, and he was a big part of that. We put balls into him and he was finding people's feet."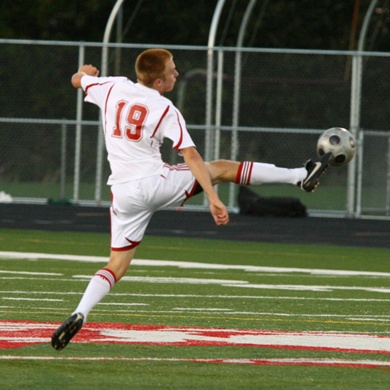 Steib also liked what he got from Giovenco in Friday's contest.
"Charlie plays at a high level and he needs to play that way every day, and be a leader by example," Steib said. "I thought he did that really, really well. I thought it was his best match of the season tonight."
As a freshman last year, Zahour was on a Broncos' squad that had an atypical sub-.500 season. He's having a much better time of it as a sophomore, on a team that's starting to battle for supremacy in the MSL and beyond this year.
"We've been in every game," Zahour said. "Last year there just wasn't this much fight. We've got kids that want to work hard this year, and do the work that's necessary to win."