Panthers post shutout in SPC win at Minooka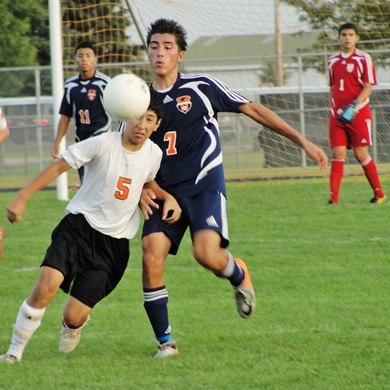 By Curt Herron
One of the keys for any team that wants to contend for a conference title is being able to take care of business in its road matches.
Oswego confronted that situation for the second time this season on Wednesday and even though it may not have been all that pretty, once again it emerged with a win.
The Panthers' Southwest Prairie Conference match at Minooka figured to be a challenge since the Indians always seem to put up a good fight on their narrow field.
And that's precisely what unfolded for the visitors, who enjoyed the better of the play throughout much of the 80 minute but didn't have a whole lot to show for it.

Coach Travis Carlisle's squad was the beneficiary of an 60-yard free kick from Kyle Kearby that managed to find the net about a minute into the match.
Although they certainly had many some good chances to add to that early lead, the Panthers were stymied by Minooka, as well as their own offensive struggles.
But while Oswego continues to look for some scoring threats, one constant that it has been able to rely upon in recent weeks has been its defense.
And that unit, featuring the likes of Collin Stransky, Josue Fernandez and Kearby, did their part to assure keeper Luis Gallardo wasn't under much pressure.
After surviving a few scares, especially at the start of the second half, Oswego wound up claiming a 1-0 victory over the Indians.
Beside improving to 2-0 in SPC play, the Panthers won their second straight and have claimed victories in three of their last four matches.
Click to hear coach Travis Carlisle interview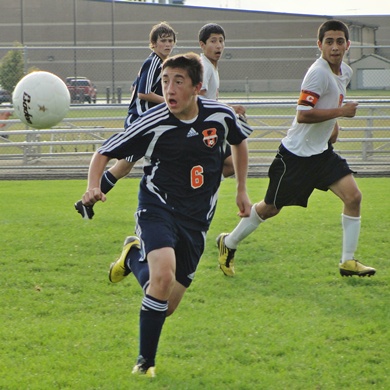 Although there was no scoring during the final 40 minutes, there certainly was plenty of drama as both squads had chances to collect goals.
Curtis Grysiewicz got things started for the Panthers (3-5-1) after the break when he sent a liner that was stopped by keeper Matt Wickersham.
Coach Jason Boe's Indians (3-9-2, 0-3) began to apply steady pressure on the Panther net shortly after that, getting most of their best chances.
Gallardo away a long free kick from Brian Falvey and then did the same on a lengthy shot attempt that came from Joe Koenig.
Click to hear coach Jason Boe interview
In short order the Panther keeper then stopped a liner from Dusty Maher and then a header from Tony Velazques off Matt Kelly's corner kick.
Oswego finally got its attack going again about 15 minutes into the new half when Dominic Primbus sent an attempt just wide of the net.
The Panthers looked like they might grab a 2-0 lead with about 21 minutes left when Nathan Kyes sent a liner toward the net, but it hit the post.
Less than a minute later, Max Calderon got free in front of the Indian net but couldn't get off a good try and was denied on a slow grounder.
Just after the midway point of the final half, Kyes threatened again but his free kick attempt sailed just over the top of the net.
Minooka had another good sequence with about 13:00 left when Letty Masula had a shot blocked by Stransky, who then stopped another shot try.
There was a bit of suspense right after that as Gallardo was sent off he field with a yellow card for retaliating following a collision.
Ryan Totsch again donned a keeper's jersey, this time over his own, and was in the net for a brief time before returning to his field play.
The Panthers had several other chances during the final minutes, beginning with an attempt from Fernando Chavez that hit the outside of the post.
Later, Totsch was stopped on a short try following a pass from Fernandez and then Grysiewicz sent in two threatening attempts that were halted.
Click to hear Fernando Chavez interview
The Panthers were pleased to get the early score on a play that usually doesn't result in a goal, especially since they've struggled offensively.
There were far fewer good scoring chances during the opening 40 minutes, with Oswego again holding the upper hand in that department.
After the halfway mark of the first half, Luis Abrego was stopped on a pair of attempts while Mitch Lewis and Stansky were also denied.
Oswego now gets to host a pair of SPC matches, with the first today against Plainfield East and the next on Tuesday against rival Oswego East.
Click to hear Josue Fernandez interview