Broncos get it done on Homecoming Day
Giovenco's goal enough to top Prospect

CLICK HERE FOR PHOTO GALLERY COURTESY OF VANESSA STRAIN
By Gary Larsen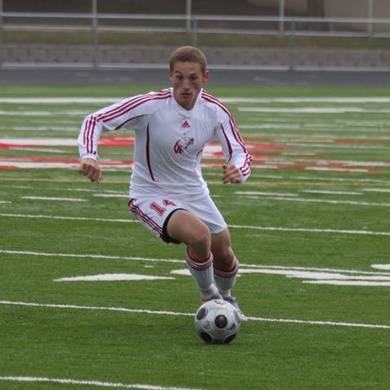 Barrington goalkeeper Will Cotopolis came charging out, Prospect's Richard Lenke went charging in, and whoever won the battle would likely decide whether overtime would take place.
Cotopolis got there first, ensuring his side's 1-0 win against the visiting Knights in the latest in a series of pivotal late-season MSL contests.
Barrington's senior keeper swatted the ball away as Lenke tried to head it past him, 16 yards away from an empty net. "I just anticipated a ball being played through, and I came off my line," Cotopolis said. "Ever since coming back from an injury, I've been working on that."
"Joe (Zimka), our keeper trainer, was saying that was probably Will's best match from start to finish," Broncos' coach Scott Steib said. "I agree with that. He came out, and if he doesn't come out like that today, they get a goal right there."
The late-game meeting between Cotopolis and Lenke was one of the few times all day that Prospect was able to flirt with a dangerous scoring chance, courtesy of solid team defense and another fine day's work put in by defenders Dan Barber, Charlie Giovenco, and Max Mohr.
With a steady wind at their back to start the game, the Knights possessed well around the outskirts of Barrington's defensive third but the Broncos gave no quarter. Cotopolis made a save late in the first half on a Mario Morales shot in close, but otherwise very little got through to the senior keeper.
"We had to stay on our toes, work it out of the back when we got it, look for guys out wide," Cotopolis said. "We're just working hard. We had a whole practice that focused on getting in hard, tackling hard, and that's really been helping us."
Steib didn't necessarily know what to expect from visiting Prospect.
"I didn't know they'd be as able to possess as good as they were. I thought they did a real nice job," Steib said. "They were bigger than I thought they were, too. I thought they'd be a good team that, if we played hard, we could probably beat. But we're lucky to win considering the number of chances we had."
The only chance that meant anything all day came in the 32nd minute, set up by a David Pacheco free kick taken deep on the right side. Austin Walsh touched it over to Giovenco, who buried it near the goalmouth.
Since starting the season at 0-4-2, Barrington has gone 10-2 in its last 12 games, and the Broncos have only given up 2 goals in their last 6 games. "You've got to be able to get a clean sheet now and then if you're going to make a run," Steib said.
Barrington (10-6-2) also improved to 7-2 in conference play and took over sole possession of the MSL West.
"Momentarily," Steib said. "The conference is tight this year. The difference between the first team and the last team is not very far apart. Some of the teams have just done a better job of winning close games – our kids, Fremd's kids, Conant's kids, Palatine's kids…"
Fremd is 6-2 in MSL play, and has the advantage of having beaten Barrington head-to-head in West division play this year. Conant sits at 6-3, while Palatine is 4-3-1 in conference play.
Prospect fell to 9-4-2 overall, 5-4 in conference play, and now sits second behind Elk Grove's 6-3 mark in the East division.
Reid Strain nearly made it 2-0 down the stretch on a counter, but Prospect keeper Brad Reibel made the stop. The ball drifted towards the end line where Taylor Williams reached it but couldn't quite get it on frame.
Steib thought his squad could have played better soccer on Saturday, but at times the Broncos have shown how far guts and a timely goal or two can get you.
"Our identity right now is kind of a finding-a-way-to-win team," Steib said. "At the beginning of the year we couldn't but we've really fixed that, and we're winning close games.
I've preached to all my teams that if you can defend, who cares if you score in the 70th minute or early in the game? So our identity right now is just playing hard and revved up, and believing in a good work rate. The kids are playing the game a little more intelligently and a little harder right now."
Barrington takes on Wheeling and Rolling Meadows in upcoming MSL action this week.