Gators leave it all on the field in season-ending loss
CLICK HERE FOR GATORS' TEAM PAGE
By Gary Larsen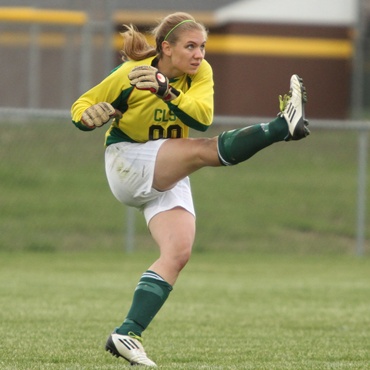 There was celebration, but not too much celebration, because Barrington has been here before. Friday marked the Fillies' third consecutive capture of a sectional title, and they're just aching to take that next step.
"We'd like to win the next one," Fillies coach Ryan Stengren said after his side's 1-0 win over Crystal Lake South. "But we're just happy to survive. It doesn't matter what the style points are. We did some things well, some not so well, and at the end of the day we're surviving."
To get downstate, the Fillies (17-6-1) will have to knock off MSL rival Fremd (17-3-2) in a Class 3A supersectional game on Tuesday. Fremd topped Lake Forest 3-1 in a sectional title game on Friday.
Fremd used a pair of goals scored in the game's final 5 minutes to win 2-1 over Barrington in their MSL meeting on April 13.
Tuesday's rematch with Fremd was made possible thanks to a Mia Calamari corner kick and a Molly Pfeiffer finish against Crystal Lake South (18-8-2), along with a pivotal save by Fillies keeper Kelly Pedersen in the game's waning moments.
The freshman Calamari sent a quality corner kick to the far post on an 80-yard wide field at Jacobs, where Pfeiffer finished her run and finished on a header for the game's lone goal.
"Molly did a great job of making the run and getting to her spot," Calamari said. "Our runners have been finding their spots and it has been working out really good. We've definitely stepped up and everyone puts in the work to get there and put a head on it."
The Fillies earned a 15-5 edge in shots over the Gators but the game's most dangerous chance in the run of play might well have been the one Pedersen stopped to preserve the win.
Pedersen stayed in position at the near post as the Gators' Cella Albuquerque broke in alone on her in the penalty area and fired at close range, with just two minutes left in the game. Pedersen got a hand on the shot, sending it wide of the post and over the end line.
"One of the hardest things to do as a goalkeeper is not get tested for long stretches, and then all of a sudden they come down and you get tested with one of the best chances of the game," Stengren said. "And she came up big. Kelly Pedersen has been playing really well and she played well today. She made a great save."
"In the back of my mind was 'let's not go into overtime'," Pedersen said. "I didn't anticipate the shot that was taken but it was easier to save because I was in the right position.
"Talking to my defense keeps me in the game so in the heat of the moment when the ball is going back and forth like that, by the time she's shooting I'm already set. She shot it kind of high and I was already set and ready to save the high shot. This is awesome. The bumpy season we had is paying off and we're really coming together as a team right now. I see us really working hard on the field, every game."
In Pfeiffer and Hyde the Fillies have a pair of persistently dangerous scoring threats, while Pedersen and defenders Calamari, Emmelie Hirdes, Emily Morin, and Morgan Stachura oversaw the team's third consecutive postseason shutout and its 14th of the season.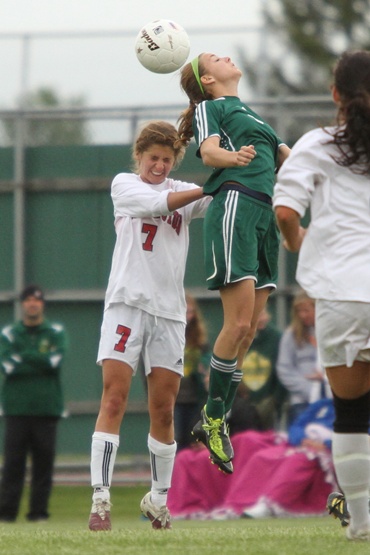 The Fillies know they'll likely need more than a goal to beat a Fremd team that has scored 71 goals in 22 games, led by a forward in Elise Kotsakis who has scored 35 goals this season.
The very reason Pedersen's game-saving stop was even necessary stood in the opposite goalmouth. Gators keeper Elizabeth Quinn was a force in the postseason for coach Brian Allen and her 12 saves helped keep her side within a goal of tying the game.
"We knew she was good," Stengren said of Quinn. "That's what you get when you have a head coach who's a goalkeeper." Allen was an all-state keeper for Rolling Meadows and a team captain at DePaul.
"I just wanted to remain calm and play like I did last game," said Quinn, who played ferociously in net in a 1-0 win over Rockton-Hononegah. "Props to (Barrington) because those were really hard shots. I just had to do my part for the team."
South opened the season by going 1-3-1 through five games. Among those three losses were games against Conant and Schaumburg, which played each other in a sectional title match at St. Charles East on Friday. The Cougars and Saxons have almost 40 combined wins this season.
Those early games against tough, non-conference competition paid dividends for a Gators team that went 17-5-1 since their 1-3-1 start. Allen's girls went 17-8-2 last year and graduated 10 seniors, but this year's team met the standard.
"They left it all on the field and I couldn't be prouder of them," Allen said. "I couldn't have asked for anything more. They're emotional right now but I think it's going to settle in, in the next couple of days, that they did something pretty darn special."
The Gators bid farewell to seven seniors from this year's team, in captains Quinn, Qian, Ellen Brunner, and Karli Schumaker, along with Kali Loescher, Rachel Resek, and Kristen Widing.
"There's not much more that I can say except I love this team and they're like a family to me. I'll never forget this season. We worked our butts off today and that's all we could do," Quinn said. "I hope the younger players understand what just happened, and they work their butts off to keep meeting the standard. They need to keep breaking records and keep setting the bar even higher and higher.
"It's been a little bit of everything for this team. It's skill, it's bravery, it's the whole package. Every player on this team had something they brought to the table. We started the season saying 'nothing to lose, everything to gain', and that's exactly what we just did. I can't believe that we made it this far."
Hugging and crying is always the way for close-knit teams after season-ending losses, and the Gators did their share of both, long after the final buzzer sounded. Quinn held it together well through her post-game interview, up until she was asked about her head coach.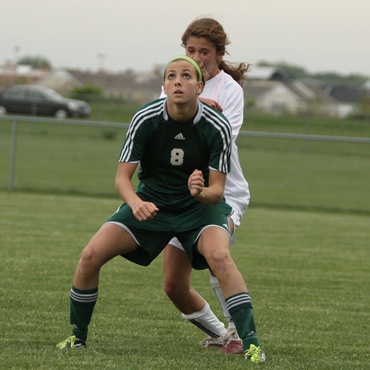 "Coach (Brian Allen) is definitely the most inspiring person I've met in my high school career," Quinn said. "I'm going to get teary-eyed, but he's been like a father to me and I'm going to miss him dearly.
Allen was elated with the effort he got from his side, in only the second sectional title-game appearance in program history.
"We got the one crisp chance we wanted with two minutes left and Pedersen made a terrific save," Allen said. "That's the ballgame, right there. One mistake that they capitalized on and then our chance that she saved. But our girls battled. They executed our game plan to perfection and (Quinn) played terrific in the back again, along with (Qian).
"We talked all year about the journey and this team will always have a special place in my heart. It's tough that it's got to end but I'm very proud of what they did."