Griffins rally in second half to force 1-1 draw with Warriors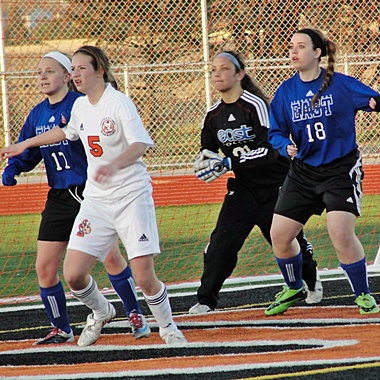 CLICK TO SEE MORE MATCH PICTURES


CLICK HERE FOR THE GRIFFINS' TEAM PAGE
By Curt Herron
A 1-1 draw isn't usually the type of outcome that coaches are all that excited about accepting.
But when you consider some of the troubles that Lincoln-Way East and Lincoln-Way West have been through, a 1-1 match doesn't look too bad.
Following tough starts, both are hoping that Tuesday's SouthWest Suburban Conference crossover in New Lenox is a sign of better things to come.
Injury woes slowed both teams at the start of the season and they're now just beginning to find their rhythm with most of their key people back.
Brian Papa's Griffins are 2-0-1 following an 0-5-1 start, which included two four-goal defeats and a three-goal loss during that rough stretch.
Meanwhile, Jeff Theiss' Warriors are now 2-4-1 following an 0-3 start which saw at least five goals allowed during each of those early defeats.
While East enjoyed the upper hand in chances in this match, West converted an early penalty kick and held the visitors off much of the rest of the way.
Kylie Hermanson gave the hosts a 1-0 advantage in the seventh minute while Jessica Bicek got the equalizer during the 60th minute of play.
Although Papa wouldn't have minded watching a few more chances go into the net, he's encouraged by the progress that he's seeing from his Griffins.
"We're just asking the girls to be a little more composed in the box and to send some balls in as crosses, and we weren't doing that in the first half," Papa said. "We were generating good possession but we had nothing going into the box and had no oohs and aahs.
"In the second half, I thought we did get balls into the box and we generated a lot more chances and had at least three or four corner kicks, to go along with the restarts and good possession. We did get the equalizer but we would have liked to get another one.
"We're finally getting healthy and what we were envisioning at the beginning of the year we're finally starting to put on the field. This was the first time that we had most of our starters playing, so we're getting closer to finally being healthy.
"Kelly McGovern might be coming back soon and if she does, then we're going to be decent. We're still a ways away and we're behind the eight ball going into seeding meetings. But I wouldn't want to play us in the first round of the state tournament."
As for West, Theiss was pleased to see his team see his team continue its good defensive play during which they've allowed two goals in three matches.
"When you get the early, you obviously want to come out with the win, but we knew that there was still a long ways to go," Theiss said. "While East did a very good job of possessing the ball but I thought our girls did a phenomenal job off the ball defensively.
"Our shape was very good and pressure cover was excellent all over the field and we weren't giving them many dangerous opportunities. After we got the lead, it seemed like we were trying to sit on it and girls were sending balls forward and we weren't possessing.
"It really wasn't until East scored that it seemed like we breathed a sigh of relief and then started taking a couple of touches in the middle. To me, it was just a lack of experience that we weren't able to settle down and slow the tempo of the game down a bit.
"We're still trying to develop our identity by playing a possession style, but we've come a long way. Putting zeros and ones up is huge coming from eights and fives, and that's why we've been in games. Going to a stopper-sweeper formation has helped us a lot."
The Griffins got off the first salvos as Kelsey Kurey and Maggie Wojtulewicz each sent liners to keeper Kayla Lojas during the opening minutes.
West made the most of its first good chance, which came after Katie Brncich drove into the box and was fouled, which resulted in a penalty kick.
Hermanson took the kick and her attempt was halted by Griffin keeper Emily Boyich, but Hermanson alertly put the rebound just inside the post.
East continued to apply pressure, beginning with a long try from Becca Dobrich and a shot by Samantha Fiorella that was cleared by Emily Kowalski.
After Kurey was stopped on a short shot, she tried to connect again from close range midway through the half but Lea Gindville broke up the play.
A few minutes later, Griffin Erin Mangia sent in a long free kick that deflected off West's Cori Brennan before finally being hauled in by Lojas.
The Warriors had the last good chance in the initial half when Kara Winans fired in a long line drive that Boyich punched over the top of the net.
"We're doing a better job in the attacking third but we just need to do a better job of finishing on the crossing, corner kicks and getting our heads on the ball," Dobrich said. "Creating chances is the most important thing and we're doing a better job on that.
"We were definitely more aggressive in the attacking third, as we showed when we scored five goals during the last 20 minutes of the second half in last Friday's game with Peotone. We're just trying to take more chances so that we can step up our game a lot more.
"Kelly was one of our key players so when she comes back, she's going to be a key component of us having success in the attacking third. The mix of all of the different ages has made our team chemistry so good and we all get along so well and trust each other."
It was more of the same for East during the final 40 minutes, beginning with Kelsey Elam's liner that Lojas hauled in during the first 10 minutes.
Around the midpoint of the half, Stacy Sons had a shot deflected away by Gindville a short time before the Griffins finally connected to even things.
Mangia set up the score when she sent a pass to Bicek, who fired in a line drive with just over 20 minutes left to end the scoring drought for East.
Not long after that tying score, the Warriors responded with a long free kick from Hermanson that was hauled in by the Griffin keeper.
A few minutes later, Mangia sent a corner kick toward the box and Kurey received it and then sent in a try that was deflected by Kowalski.
West began to challenge during the final 10 minutes, beginning with a pair of short attempts by Kara Winans that were denied by Boyich.
The Griffins had another good chance with just under six minutes left when Meghan McMahon saw her shot attempt punched way by Lojas.
Down the stretch, Brennan was denied on her team's last good try before Lojas hauled in a liner from Mangia with about a minute remaining.
"Emily, Lea and Kendall (Watson) always had my back any time that I was in trouble today," Lojas said. "They're always talking and helping me to notice where the ball is and who's going to be there. We only let one go in and there were a lot of shots on goal.
"With Ashley (Sichak) having to play in goal at the start of the year everyone was frustrated since she's one of our big players in the field. Once we've started to get everyone back and talking and got our chemistry going, we started working well together.
"Yes, this was a tie and we're going to be frustrated but everyone played very well today and played like we should. Getting a tie against a team like East is a good result for us, as was working hard and getting a win when we played Joliet West last week."
Both teams return to action on Thursday with the Warriors playing at Lockport and the Griffins hosting Lincoln-Way North.