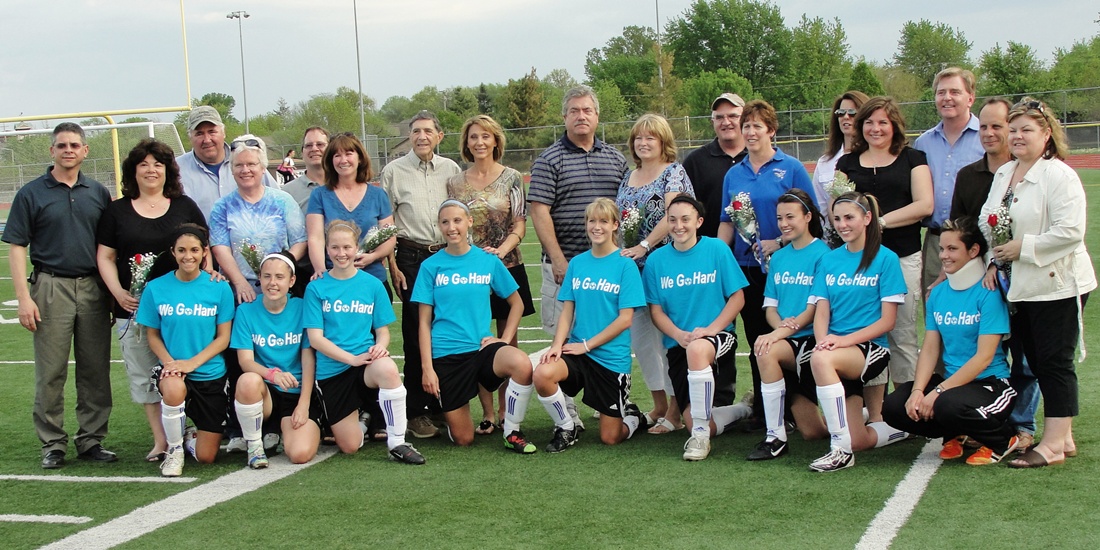 Lincoln-Way East's senior night on Thursday looked like it might be a big success for the nine Griffins who were honored prior to their final home match.
The Griffins grabbed a 2-0 lead over Reavis just 13 minutes into the nonconference match and still maintained that lead with 17 minutes left in the first half.
But that's when lightning was spotted in the skies south of the stadium, sending both squads into the school for a nearly 45 minute delay due to the weather.
Right as the teams were getting ready to return to the field for more action, more lightning appeared, which prompted the officials to call off the match.
That wasn't the end of the evening's festivities for the Griffins, however, since they headed to the cafeteria with their parents and family for a team dinner.
Some of East's seniors who were honored prior to the match were Elise Bicek, Emily Boyich, Cassidy Cassello, Nicole Ernat and Kelsey Kurey.
The rest of the group of nine Griffin seniors who were recognized were Tess Madden, Erin Mangia, Kelly McGovern and Maggie Wojtulewicz.
Coach Brian Papa started all of the seniors, except for the injured Boyich, in the match against a Rams squad that had won 17 of 20 matches.
East scored on an indirect free kick from about 10 yards out in the eighth minute after McGovern got a touch on the ball and Mangia fired in a liner.
About five minutes after that the hosts scored again, this time after Wojtulewicz sent a pass toward Bicek, who connected from close range.
In the 19th minute, the Griffins just missed getting a third goal when Mangia had a shot deflected, Wojtulewicz hit the post and Ernat was denied.
The Griffins kick off postseason play on Wednesday at 7 p.m. when they meet Mother McAuley in the Homewood-Flossmoor Regional semifinals.