Many's bomb earns Redhawks tie with rival Huskies

CLICK HERE FOR NAPERVILLE CENTRAL'S TEAM PAGE
By Gary Larsen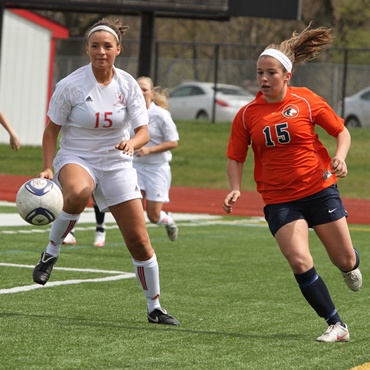 Like many soccer players by the end of April, Naperville North senior Jamie Meno is banged up. But where Saturday's game between North and rival Naperville Central was concerned, she never really had a choice in the matter.
"I sat out Thursday so I could be here today," Meno said. "I wasn't going to miss this game."
Central senior Krissy Many understands completely.
"There's nothing like a game between us no matter what sport it is," Many said. "We have old players here watching, all of our family comes, and we know so many people here.
"I think both teams fought to the very end today. It was a really well-deserved tie, I think. A tie is the result that suits both teams because we want to beat each other so badly."
Counting Saturday's game, North and Central have played each other in girls' soccer 54 times since 1981 and only tied 6 times. While North holds a 30-18-6 all-time record vs. Central, Central has a 14-3-2 record against North over the past 10 seasons.*
The back-and-forth slugfest between the programs continued Saturday in a 1-1 DuPage Valley Conference tie, with both goals coming in the second half.
Christa Szalach got North on the board with a beauty of a head shot off a whale of a throw-in from Kirsten Anderson. Many answered for Central with a 45-yard free kick goal that bounced high in the penalty area and floated under the crossbar at 52 minutes.
The two teams spent the next 48 minutes holding up their long-standing tradition of intensity.
"Every time. It doesn't seem to matter, it's always very even," North coach Brent Terada said. "The kids bring maximum effort and they take a lot of pride in this rivalry. Neither team wants to be on the short side of the game, so that's what you get are games like this."
Naperville Central (9-4-2, 3-0-1) attacked hard through the game's initial stage, and Naperville North (7-3-1, 3-0-1) returned the favor after halftime. North capped its second-half surge with Szalach's goal off of the most persistently dangerous weapon either side enjoyed all day.
Anderson's wicked throw-in.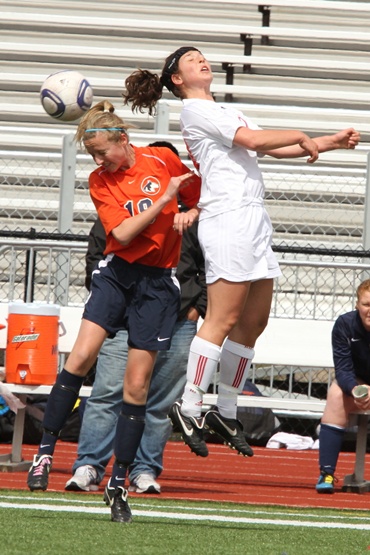 "It's unbelievable. We're defending five yards off our goalmouth and she throws it, and all of a sudden we're beyond half again," Terada said. "So not only is it a huge offensive weapon; it's huge for us defensively too. It relieves so much pressure.
"Teams know that if they kick it out anywhere on their half of the field, we literally have a chance to get a goal. And if they kick it out on our defensive half, we can get out. It's such a luxury."
Anderson's throw from deep on Central's end whipped towards the goalmouth, where Szalach elevated and headed it past Central's all-state keeper, Jill D'Amico.
"For me, heading is one of my stronger points, so if I can to the ball I'll get on it, and that was a great throw by Kirsten," Szalach said. "I didn't really look at Jill (D'Amico) but I knew she was already kind of in the center. If I flicked it far, hopefully it would get in, and it did."
Anderson developed her toss when she was 10 years old, after watching a friend of her brother's who could throw it a long way.
"For years I've had it and it's definitely a weapon," Anderson said. "Krissy Many also has a long throw and I hate defending against it. You realize what a weapon it is when you have to defend against it as well."
Central coach Ed Watson applauded Szalach's finish but liked the way his squad handled things defensively on the day.
"I like how we defended their long throw and I think Jill had a pretty good game today," Watson said. "She certainly was asked to do more. I'm not complaining because we did that for three years when we had Alex Coon. When you have it, you use it. They got on the end of one today. That was a great ball by (Szalach) and it was one of the few let-downs we had in terms of marking."
Watson's girls in back were assigned the task of not allowing North's speedy and skilled Zoe Swift to victimize them on Saturday.
"Our main focus was to shut her down," Central defender Sabrina Cisneros said. "We know she's one of their top players. She's very fast, she has good foot skills, and she's nationally-ranked. For us, we weren't going to be scared of her. We were going to work our hardest to shut her down."
A pair of Central's defenders were instrumental in neutralizing Swift.

"Amanda (Alberts) and Alyssa (Angelo), who I think played the entire second half on the inside, did a great job with (Swift)," Watson said. "You're not going to shut her down completely but we have a pretty good goalkeeper and the only real shots she had were balls that Jill is going to save."
Central is finding its footing defensively, having given up one goal in its past three games.
"Krissy Many and Ashley Tegge moved into the midfield and that has really helped us. They're winning everything," Cisneros said. "They're winning balls for us, they're playing great, and as a team we're playing solid defense. We're working together very well."
North's defense has been rock-solid this year. The Huskies have only given up 8 goals in 10 games, and four of those came in Wednesday's 4-3 loss to Lyons Township.
"It's definitely been a collective effort," Terada said. "Kirsten Anderson, Adrienne Schertz, Jamie Meno, Tori Novak, Anna Prescott – it's a combination of four or five kids who have stepped up and done really well. They take pride in what they do and by giving up four (goals) to any team, they took that really personally. They came back ready to really lock teams down and realistically today, I don't think we gave up many chances in the run of play."
Defender Meno confirmed that her side came out with a fire in its belly after Lyons put four goals up against her Huskies. North followed the loss to LT with a 5-0 win over Lincoln-Way Central.
"That was probably the worst we've every played (defensively)," Meno said of the game against Lyons. "The goals we gave up were not the way we play soccer. It definitely motivated us to step it up.
"It' about communication and when someone steps, they step hard. A lot of it is Christa (Szalach) and Emily (Bromegen), our center mids. They just track and track. They work their butts off and make it easy for us."
Terada was happy to have Meno – banged up or not – back in his starting lineup.

"I thought Jamie played well. I was very pleased with her today," Terada said. "She's a rock. She's hurt, she's not moving as well as she normally does but she battles, she organizes, and she is just such a source of confidence for us."
With neither side finding dangerous shots in the run of play, Many stepped up for Central and tied the game with a bomb of a free kick, similar to the ball she hit in Thursday's 1-0 win over Downers Grove South.
"We wanted to get a lot of shots on, which we weren't really able to do. I got the ball on the drop and always try to hit it at goal," Many said. "Maybe one of my teammates will get on it or find a rebound, but today and Thursday it's just been going in."
"Give Krissy credit," Watson said. "She didn't know it was going to do what it did but that was her intent, to test (North keeper Abby Green) and make her save a ball. I thought we had great effort in the first 12 or 15 minutes of the game. I thought we had it going and just couldn't get one in, and then (Green) made a big save on (Ashley) Tegge's shot."


D'Amico saved Szalach in the first overtime and North's Hunter Drendel blistered a shot off the crossbar in the second, on a free kick from 20 yards out.
"My thoughts, I don't think could be written in the paper," Many said, when asked about Drendel's near-goal in overtime. "But we trust (D'Amico) back there and at the end we just wanted to get the ball out and make their backs turn around and go back towards their goal."
"(D'Amico) made some really good saves and the ball didn't bounce our way on a few of those occasions, but that's the way it is," Terada said. "They missed a few opportunities as well."
"In four years of this rivalry, it's never been about who's better," Meno said. "It's just who's willing to fight more."
*per information from Naperville North's girls' soccer site