Gators post first shutout in scoreless tie with Bartlett

CLICK HERE FOR PHOTO GALLERY
CLICK HERE FOR GATORS' TEAM PAGE
By Matt Le Cren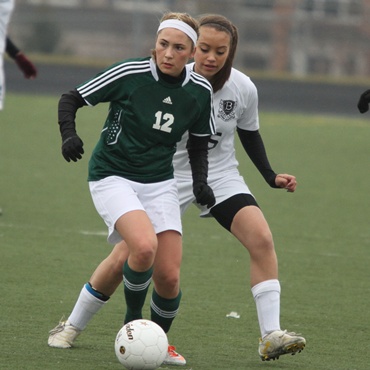 Bartlett forward Nicki Noreen and Crystal Lake South goalkeeper Elizabeth Quinn had three things in common Friday – they were wet, cold and glad to be able to get on a warm bus after their teams played to a 0-0 tie on the final day of pool play at the South Elgin Invite.
The match at Millennium Field in Streamwood began in a steady rain and finished with snow coming down. Combine that with the 37-degree temperature and it wasn't surprising both team struggled to score.
"It was definitely cold," Quinn said. "I just kind of was dancing around in the goal, kept talking and that kept me nice and warm."
Quinn kept the Gators (1-3-2) in the game as she made five saves to record her squad's first shutout. Her best stop came with 15:00 left in the second half when she dove to her right to make a one-arm stop of Nicole Gobbo's 10-yard shot.
"I was really excited today," said Quinn, a senior who is playing behind an entirely new back line after all four of last year's starters graduated. "I had a good warm-up, so I was hoping that we'd get the result that we got today. I truthfully think that it's going to…spark that fire."
Crystal Lake South coach Brian Allen, whose club has scored only two goals so far, certainly hopes the fine defensive effort leads to better offensive production. The Gators were outshot 13-7 but did manage to put a little pressure on Bartlett in the second half when they mustered six shots, including a header by Christina Szocka that missed high.
Bartlett goalie Natalia Grodzki made three saves and Ashley Johnson and Lisa Palmer were solid in the back for the Hawks (5-1-1), who have blanked their last four opponents.
"Scoring is a big issue right now," Allen said. "We're connecting well, we're doing some things right, but in the final third we've got to be more dangerous. We created a few more chances today, which was good to see.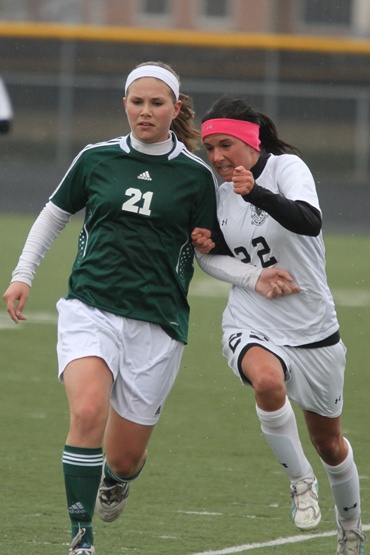 "My big thing was we got our first shutout of the year, so that's going to be a big confidence-builder for us as we move forward, so we can take stuff away on both sides of the ball. I thought the defense shut down a pretty high-powered Bartlett attack. That was good to see."
Gobbo and Noreen were dangerous at times but couldn't solve Quinn, sweeper Vivian Qian or marking backs Ashley Tyllia and Emily Hamrick, who did well in not allowing any clean breakaways.
"Vivian played very well, and then [Tyllia and Hamrick], they don't have a lot of speed but their positioning and their strength on the ball was key today, so that was good to see," Allen said. "And [Quinn] is kind of that mainstay keeping them organized so we'll rely on her a lot."
Noreen squeezed off five shots for the Hawks but couldn't find the right range. She nearly found the back of the net with 2:10 left when a pass from Gobbo sprung her on a partial breakaway on the left side, but Quinn charged out to cut down the angle and the sophomore rolled a shot wide.
"I couldn't get the ball in the net," Noreen said. "My touches were bad. Playing on the field is definitely different with the [weather] conditions but I think we did good. We moved the ball well. We've just got to keep finishing."
"[Noreen] is probably our quickest player, deceivingly quick," Bartlett coach Heather Thomas said. "She had some good opportunities. Unfortunately most of them went over, so we just need to work on a couple things and hopefully get them worked out before tomorrow's game."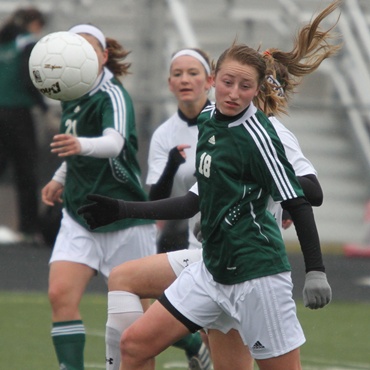 Bartlett, which had already clinched a spot in Saturday's 4 p.m. championship game, won its pool with a 2-0-1 record and will take on South Elgin or defending tournament champion Rolling Meadows for the title. The Hawks finished second behind Rolling Meadows a year ago.
"Everyone is saying we're going to be good this year," Noreen said. "I think we're doing pretty good."
Crystal Lake South finished third in pool play with a 0-2-1 mark and will play for fifth place.
"We want to continue to build towards [the] conference [season]," Allen said. "We've got Cary on Tuesday so that's been our ultimate goal. We've kind of treated each of these as preseason games."