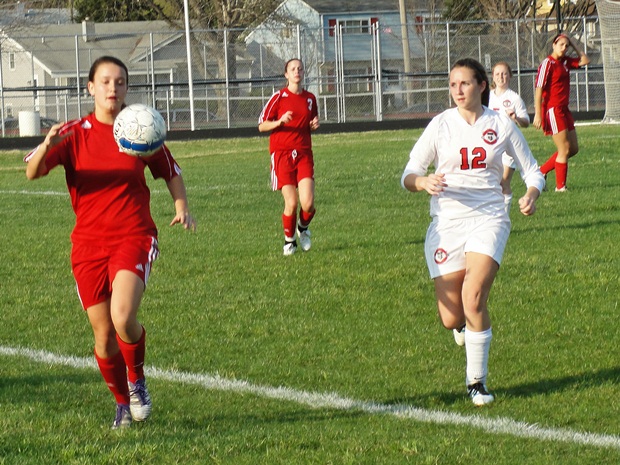 Red Devils score first goal but fall to Rams on late score
By Curt Herron
CLICK FOR HINSDALE CENTRAL'S TEAM PAGE
It definitely was not the type of start that Glenbard East was looking for when it met up with Hinsdale Central on Wednesday.
The Rams allowed a goal just over two minutes into their match with the Red Devils, forcing them to play catch up for the next 50 minutes.
But after getting the equalizer with just under half an hour left to play, things definitely finished in a good fashion for East.
Just as it looked like Central might be able to walk away with a draw for the afternoon, the Rams struck again with just 4:44 remaining.
That's when Jess DeJong gave East its first lead, following a through ball from Katie Difino, to cap a 2-1 nonconference win in Lombard.
Beside being their first victory over the Red Devils, the comeback win improved coach Kent Overbey's squad to 3-0-1 on the young season.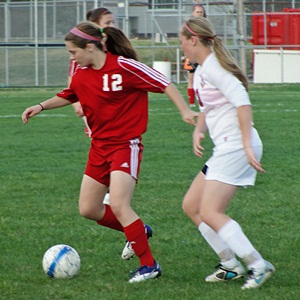 "This win is a good sign and we're happy with it," Overbey said. "We didn't start very well and didn't clear a ball at the top of the 18 and one of their girls made a quick shot that caught us off guard and we were down 1-0.
"But I was proud of our girls since we hung in there. They were playing a 4-3-3, which we hadn't faced yet this year, but we made the adjustments in the center of the field and our outside midfielders pinched in and did a great job.
"We just kept chipping away and we felt it was going to come, and it did. We're a veteran team with 11 seniors and I think we're starting to mesh. We play for a lot of clubs so it takes time to find the balance but we're coming together."
The Rams threatened to even things up as early as midway through the opening half, but the Red Devils (0-2-1) managed to frustrate their efforts.
The first flurry began about 20 minutes in when Bethany Wood was stopped by keeper Riley Glenn and then Alex Ruffer had a try deflected by Erin Smith.
Shortly before the break, Sadie Moore sent a header toward the net but Glenn jumped to make the stop and keep the visitors in front.
Then during the initial minute of the final half, Lindsey Paganucci sent a pass to Moore, whose close-range attempt was again denied.
Things finally clicked for the Rams in the 54th minute when Ruffer sent a short corner to Moore, who tied things up with a close shot.
"We worked well together as a team today," Moore said. "Our midfield really came through and they were putting great balls on frame for us to follow up on. We've really been working hard in practice and it's finally paying off for us.
"We've put our differences in ages and clubs aside and we talk with each other and we're also close off of the field. I like how we play tough every day. We were down by a goal today but we didn't put our heads down and kept fighting."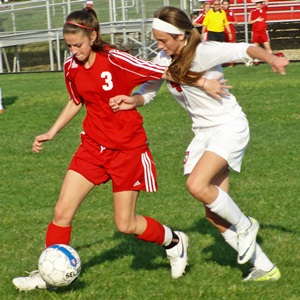 The Red Devils nearly responded with a goal a short time later but Megan Schick's attempt was pulled in by Rams keeper Veronica Fairbairn.
Not long after DeJong saw a try halted in the 68th minute, Red Devil Caitlin Smith fired a liner that sailed just over the top of the net.
That set the table for the match-winner, in which Difino sent a good pass forward to DeJong, whose subsequent goal completed the comeback.
"It's hard coming back from behind but we wanted the second goal since we'd rather win than tie," DeJong said. "Katie played a ball up the middle a little bit and I just turned and cut and shot and it ended up going into the net.
"We applied a lot of pressure from the back all the way through the midfield and to our forwards and possessed the ball during the second half. I like how we all are pretty close with each other and we know how we play, so that helps."
After giving up the quick score, the Rams defense didn't allow the Red Devils very many good opportunities to put the ball back into the net.
It marks the fourth straight outing that Rams have allowed just one goal. After getting a tie in their opener, they've won the last three matches.
"On defense, we've tried to solidify our lineup and one of the changes that we've made this year was moving our four-year starter Jessie Grumstrup from the center midfield position to solidify our center defense," Overbey said.
"They were sending three forward and Jessie was able to keep things composed and lock things down the entire game. And I thought that Meghan Mumenthal played well on the outside defense and KJ Nelson also stepped in at outside defense."
Grumstrup is pleased by what she's seen thus far from the Rams at the start of their season and hopes that it leads to continued success.
"This win helps our confidence a lot and it should get us ready for the DVC," Grumstrup said. "This is my fourth year on the varsity and each year we kind of didn't want to play Hinsdale Central, so to finally beat them feels awesome.
"We had a letdown right at the beginning, which was upsetting, but I think once we saw what they were doing, our outside defenders did a good job of pinching in. This is pretty much a new defense so we're still trying to get connected."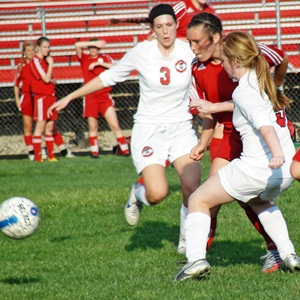 The Red Devils scored their first goal of the season just 123 seconds into the match when Lily Chetosky lined a shot that sailed over the keeper.
They had some more good opportunities during the next 20 minutes of play but attempts from Chetosky, Schick and Grace Niestrom were all denied.
Central, which only has two seniors on its roster, is still trying to adjust to the system that's being implemented by new coach Michael Smith.
"After we scored the goal, I think a level of complacency set in," Smith said. "We had a goal so it was time to settle in, and I think that comes with youth. You can't wait and hope and pray that it happens, you have to go out and create it.
"Glenbard East did a great job of making us uncomfortable and putting us in situations where we did not respond. I tip my hat to them for sticking to what they wanted to do and pressuring us to give them the ball to start their counterattack.
Despite the slow start, Smith is encouraged about his players and their abilities and expects them to be much better by the end of the season.
"This is a young group so the expectation is it's going to take some time," Smith said. "The girls are working through the growing pains of learning a brand new system and a style of play based on keeping possession of the ball with a purpose.
"The technical ability is there, now it's turning that into skill under pressure and that's what makes great players. We're slowly turning the heat up in training, but it's really about getting them to play faster while they're under pressure."