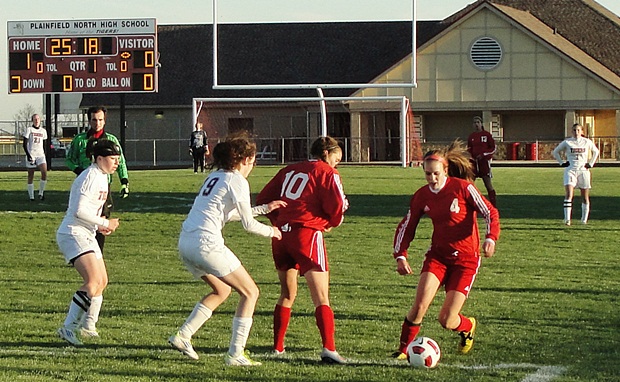 Inexperienced Red Devils struggle against veteran Tigers
By Curt Herron
CLICK HERE FOR RED DEVILS' TEAM PAGE
While recent trends are always interesting to point out, they don't always reflect just how things will actually wind up unfolding on the field.
But the numbers concerning how Plainfield North and Hinsdale Central had fared in the last five matches proved to be an all-too-accurate indicator on Thursday.
The Tigers entered the nonconference meeting on their own field with a five-match winning streak in which they had outscored their opponents by a 34-1 margin.
Meanwhile, the Red Devils had struggled to find the net, scoring just three goals and getting blanked three times as they opened the season with an 0-3-2 mark.
Once play got under way, North connected four times during the initial half hour and then added another score after the break to claim a 5-0 win over Hinsdale.
The Tigers (7-1-1) received a pair of goals as well as two assists from Callie O'Donnell, who had a hand in all of the scores except for the middle one.
In addition, Ashley Handwork and Sara Stevens each chipped in with a goal and two assists while Kelsey Gill contributed the other score for the winners.
Emily Brodict and Paige Polonus each played a half in goal and faced few threats to record the shutout for North, which posted its fourth consecutive shutout.
Not surprisingly, Tigers coach Jane Crowe was very pleased with the performances that were turned in by her talented squad in each of the areas of the field.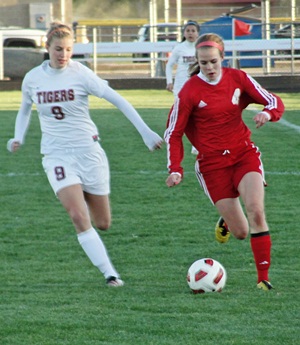 "Every game our girls go out expecting to win," Crowe said. "Some times it happens and some times it doesn't, but they still have that expectation. We know that we have the ability to score goals and because of that confidence, everything comes a little easier.
"Scoring goals isn't easy and it's hard to find goal scorers so we're lucky to have a few this season. I also like how our defense has been playing and because of that, we feel that if we can score at least one goal, then we can shut the other team out.
"Hinsdale is a good team and it played well and had chances, especially late in the game. At halftime we talked about even though we were up 4-0 that we couldn't let up and I was happy since we didn't do that and also got the shutout. This was a good win for us."
The Tigers got the only goal that they would eventually need in the eighth minute when O'Donnell sent a pass to Gill, who lined in an attempt for the score.
They added to their lead in the 16th minute when Handwork assisted O'Donnell and again in the 25th minute, when Stevens scored off of a pass from Handwork.
In the 29th minute, the hosts connected once more as Stevens assisted O'Donnell on a goal to make it 4-0, which is how things remained going into the break.
"We have a lot of good players on the outside who get the ball upfield," Stevens said. "And we're happy that our defense has being doing well and we have two good goalies.
"We're used to playing with one another and we're friends so we know what everyone else will do and as a result, things are starting to come together for us."
Although North only managed to score one more time during the final 40 minutes of play, that goal may have been its most-picturesque tally of the evening.
The sequence in the 58th minute began when O'Donnell sent a pass forward to Stevens, who then crossed the ball to Handwork, who headed it in for a score.
Hinsdale kept Polonus busy during the final dozen minute with several good attempts, but none found the mark and the Tigers were able to post the shutout.
For right back Shayna Dheel, good defense has resulted in good offense for North, which has recorded clean sheets in all but one of their seven victories.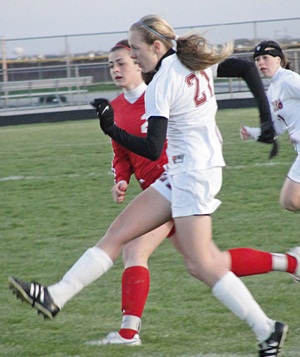 "It's really nice when you're on defense to have an offense that can shoot and score since it makes us feel a lot more confident," Dheel said.
"We have a really good group to play with and our passes are coming together nicely. Our expectations for the whole season are really high.
First-year Red Devils coach Michael Smith realized that his inexperienced team, which has only two seniors, would likely have its hands full on Thursday.
That's because the Tigers have a veteran squad with seven seniors plus a large contingent that has played on a regular basis during the past few seasons.
As a result, Smith remains upbeat that Hinsdale can gain some confidence this week in matches against Proviso West, Downers Grove North and West Chicago.
"As they say, there are bumps in the road and if that's so, this was a pot hole for us," Smith said. "But in a short, brief conversation with the girls afterward, we said that this was over and it's time to move on. That's the only way you can deal with this.
"It was clear from the beginning that North had great focus and worked really well as a unit. That's what took over, especially at key moments where they were ready. When you have seasoned veterans, you know the movements, the body language and non-verbals of your teammates.
"Casey May is not normally a winger but is starting to put herself in dangerous positions and getting shots. Meghan Schick is giving us a good lift in trying to change the point of attack in the midfield. And our center backs Caitlin Smith and Kate Kormushoff are still learning the pairing there.
"We have three upcoming matches this week where we'll be prepared to compete. Now it's a case of being prepared and acting on it, and that was something that was missing today. We've trained well but the execution that was necessary just wasn't there today."