Warriors put up a good fight before falling to Huskies
By Matt Le Cren
CLICK HERE FOR WARRIORS' TEAM PAGE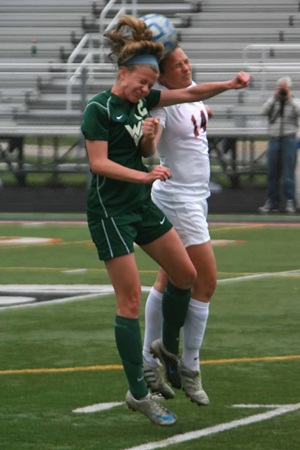 Zoe Swift was already one of the most exciting offensive players in the state last season, when she scored 13 goals, including the game-winner against Conant in the state semifinals.
Guess what? She's even better now.
How good is Swift? Well, on Saturday she did something no player in recent memory has done – score a hat trick against Waubonsie Valley.
Swift accounted for all of Naperville North's scoring in a 3-1 victory over the Warriors in Naperville. It was the first time any team, let alone player, has scored more than two goals on Waubonsie Valley in a regular season match since April 13, 2005, when Neuqua Valley beat the Warriors 4-0.
The only other time that has occurred in the 166 games since then was last May 24, when the Warriors lost 5-1 to Neuqua Valley in a sectional semifinal contest.
"I worked hard over the summer," said Swift, who has 12 goals thus far. "I said I'd score more goals this season. I've been working with my club coach on finishing techniques, so I'm glad I got my three goals today. I'm going to try to continue scoring and contributing."

With Swift and freshman Abbie Boswell up front, the Huskies (10-0) have a pair of forwards so speedy and talented that defenses can easily get flustered, which is what happened on Naperville North's first goal.
Swift made one of her aggressive runs through the defense but had the ball taken away by a defender, who heard Swift's footsteps behind her and tried to pass back to goalie Emma Rigby.
But the ball didn't go where Rigby was expecting it and it wound up in the net for an own goal. Swift was credited with the goal because she was the nearest Huskie.
"I think their defense was unorganized at the time and we just happened to take advantage of it because they had false touches," Swift said. "So it just went back and it went in. I'll take it."
Though the Warriors probably considered it a defensive mistake, the play was really an example of what in tennis is known as a forced error.
"I think they were a little hectic back there," Naperville North midfielder Cora Climo said. "Zoe just put a lot of pressure on them, so props to her for keeping that intensity up. Sometimes that's what gets you team goals."
Waubonsie Valley junior Jenna Romano said the Warriors know how the Huskies play, but stopping them isn't easy.
"The way they play, they just play a lot of over-the-top balls and we were ready for that, but with such fast forwards [they were] kind of catching us off-guard a little bit," Romano said. "We weren't as prepared as we could have been, but I think it's definitely something we can learn from and try to improve on."
The Warriors (5-3-1) actually played the Huskies fairly evenly in the first half. Romano had the only shots for the visitors, a 41-yard free kick that bounced wide of the left post and a shot from the same distance that was saved by Naperville North goalie Allison Hitchcock.
But Swift, in a portent of things to come, had the best chance of the half, ripping a running shot that hit the right post and caromed untouched through the goal mouth a few minutes after her first goal.
The junior found the back of the net again at the 30:04 mark of the second half, taking a pass from Boswell and beating backup goalie Taylor Hughes, who entered the game in the 19th minute when Rigby was kicked in the head, with a 15-yard shot.
The play came on a 2-on-3 counterattack, one of many dangerous chances the Huskies created in transition.
"We definitely work on that in practice, trying to transition fast out of the back and get up top as fast and precise as we can," Climo said. "We try to change it up, try play it through the midfield, try to find different types of balls, but 'Bos' and Zoe are definitely really strong up there so we're always looking to find their feet or find them over the defense."
The Huskies would be foolish not to.
"Zoe is somebody who anytime she's around the goal looks to finish and she does," Naperville North coach Steve Goletz said. "She loves to pick a corner out.
"Zoe has had a phenomenal year for us and we're going to need her to continue that, obviously, because she's a dangerous player any time she has the ball and any time she's in and around the box. We're very lucky to have her."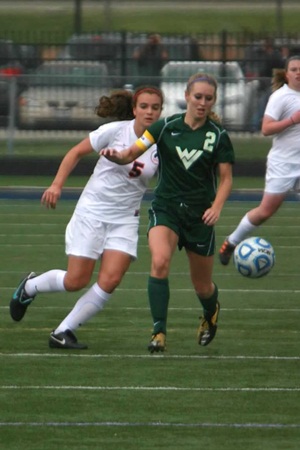 Swift completed her hat trick with 30 seconds left, running onto a beautiful long ball from Climo that went from the right side of the midfield to the left side of the Waubonsie box. Swift took a couple of touches to the end line and beat Hughes inside the right post from a tough angle.
"Cora played me a perfect ball, slotting the defense. I just took advantage," said Swift of the play that demonstrated her improved touch. "Last year I just kind of shot it with no purpose. This year I look for angles and where to place the ball and I have to read the goalie better."
The final goal was necessary because the Warriors didn't go down without a fight. Romano scored her first goal of the season when she headed home a corner kick from Rachele Armand to make it 2-1 with 9:10 to go. It was just the fourth goal given up by the Huskies this year and was a shot in the arm for the young Warriors.
"It was definitely really important," Romano said. "It was a physical game the entire time, like way more physical than we've played this entire season, and everyone was kind of getting down on themselves.
"Me being a captain [with] Shannon [Donelson] and Rachele [Armand], we just kind of told each other we either need to set an example ourselves or keep positive and try to help the girls out. So we just pushed forward. We just needed a goal and once we got one goal, we tried to get another."
The Warriors did their best to put pressure on the rest of the way but weren't able to get another shot off, which was a relief to Goletz.
"I think for the girls it was good to grind out a win against a very good team," Goletz said. "They had us on our heels at times today and I thought they played very well and they have a couple of really nice players.
"They battled and battled and our kids I thought in the second half stepped up in terms of winning balls in the air. That was probably the hardest game we've played all year in terms of 50-50 balls. Waubonsie definitely battled us."
Seeing as how the two teams could meet again in the playoffs, the victory was important to the Huskies.
"It's definitely a big win," Climo said. "All the Naperville schools, including Waubonsie, are tough soccer teams and we knew it was going to be a big game coming into this, so we wanted to come out with a high intensity. It wasn't our best game of soccer but we got the win."