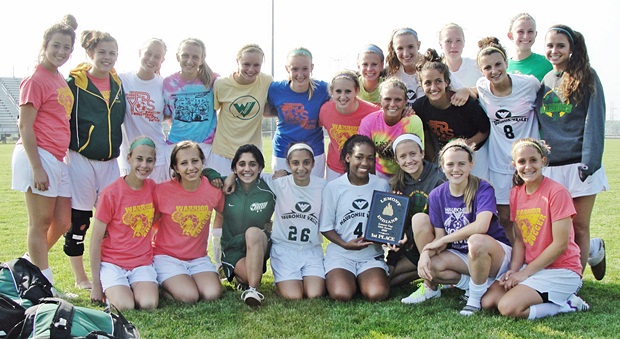 Warriors roll past Eagles in Lemont Cup championship
By Steve Millar
CLICK HERE FOR WARRIORS' TEAM PAGE
A young Waubonsie Valley squad is starting to put it all together at the right time.
The Warriors won their three games at this weekend's Lemont Cup by a combined score of 11-0.
They capped it off Saturday with a dominant 3-0 win over Carl Sandburg in the championship match.
Waubonsie also beat the Eagles in last year's finals and have won three straight Lemont Cup titles.
Coach Julie Bergstrom's Warriors (13-4-3) have now won five straight contests.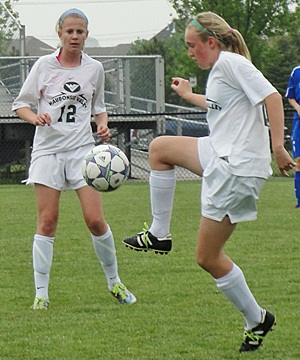 "We have a lot of freshmen and we're starting to work together a lot better," said senior Michelle Filipek, who had a goal and an assist. "These tougher games are helping us and we're definitely coming together."
Shannon Donelson and Kristen Dodson also scored for the Warriors while Emma Rigby posted the shutout.
Filipek helped get the Warriors on the board midway through the first half.
She lofted a perfect pass from 40 yards out along the left sideline to the streaking Donelson on the right side of the box and Donelson finished the beautiful play with a shot inside the far post.
Waubonsie had several chances to increase the lead in the first half, but misfired on a couple of shots and was shut down in the box by Sandburg's defense on a couple other occasions.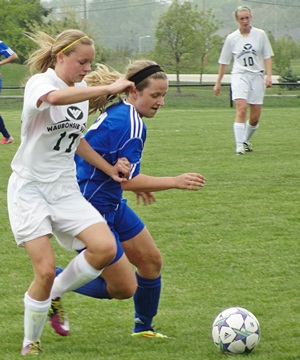 One thing that continued throughout the half was strong ball movement. The Eagles (10-5-4) had to dodge a couple of big bullets in the final 10 minutes before the break.
Jenna Romano sent a long pass on target to Tori Christiansen, who put her shot wide. Filipek made a strong rush and found Dodson in the middle of the box, but her shot was also sent just wide.
The Eagles had a couple of chances early – a Meghan Carmody shot sailed high and a pair of free kicks from striking distance were broken up in the box – but were controlled by the Waubonsie midfielders and back line the rest of the way.
After Sandburg's solid start, the Warriors began to dominate possession.
"We try to keep the ball on the ground and have possession as much as possible and cause movement on the ball and off the ball," Dodson said.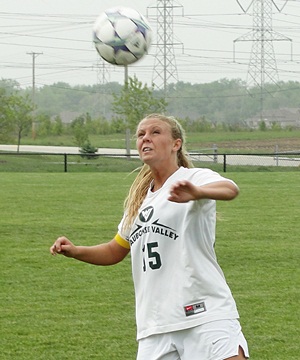 Filipek and Dodson continued to wreak havoc early in the second half.
Sandburg had to scramble to avoid surrendering a goal in the opening moments of the half as Filipek's shot was saved.
But Dodson beat goalkeeper Nicole Kulovitz to the rebound and nearly had a shot into the open net before Sandburg's Carly Katalinic broke it up.
Eight minutes later, the Warriors would not be denied.
Filipek came up with a loose ball in the box off a corner kick. She did not fully connect, but her bouncing shot eluded Kulovitz to give Waubonsie a 2-0 lead with 21:37 remaining.
"It was a corner kick and it just bounced around a bit and I just kicked it in," Filipek said.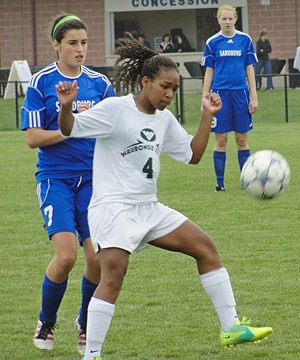 Dodson, who was dominant all day and consistently blew by defenders to create chances, was finally rewarded with 13:15 to go, scoring off a Morgan Kemerling pass.
"I was just trying to make a wide enough run that I could get the through ball," Dodson said. "Morgan saw me and gave me a really good ball. I just got a touch on it and was able to hit it."
Dodson is only a sophomore, but resembles a veteran on a team that has 12 freshmen on the roster, including Rigby, Kemerling and Maddie Pokora, who all started in the championship match.
"All the freshmen are great girls and they are really good talent," Dodson said. "They just make our entire team better."
Of course, the leadership of the team's four seniors, including Saturday's heroes Filipek and Donelson, helps as well.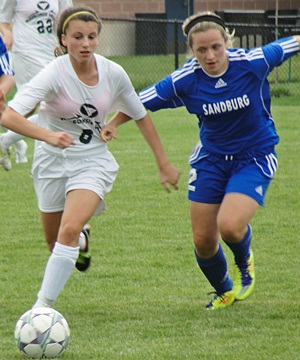 "I've been here the longest I guess so as a senior I have to be kind of a leader and show them the ropes," Filipek said. "We're starting to work together a lot better with the freshmen. These tougher games are helping us and we're definitely coming together."
Dodson agreed that the team has now jelled.
"I think we are coming along," she said. "We had a team-bonding trip which I don't think any other team has done. We've gotten so close as a team just from that and from having team sleepovers, senior night, all that stuff. It also helps that we've played together for awhile now."
Waubonsie was dominant throughout its weekend in Lemont, topping Hinsdale South 4-0 in Friday's quarterfinals before dismissing Lincoln-Way North by the same score in Saturday morning's semifinals.
Filipek and Dodson agreed that the Warriors are playing their best soccer of the year.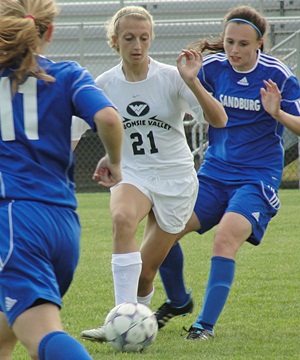 With the playoffs right around the corner, it's a perfect time to gain some momentum.
"It's definitely a confidence booster," Dodson said. "We've just got to keep playing hard. We're going to have tough games the rest of the season. It was definitely good to boost our confidence up."
The Warriors were all smiles while hoisting the Lemont Cup championship plaque, knowing that if they continue to play at such a high level, it may not be the only hardware they receive this spring.
"We're playing a lot better," Filipek said. "Hopefully we can keep it up going into the playoffs."
Waubonsie is set to take on Bartlett in Streamwood on Tuesday before closing the regular season at home Thursday against St. Charles North.
Then it opens play in the loaded Class 3A Naperville North Sectional with a regional semifinal May 15 at home against Oswego East.