Eclipse Select tops Windy City Pride in U17 title game
CLICK HERE FOR U17 STATE CUP PHOTOS
By Gary Larsen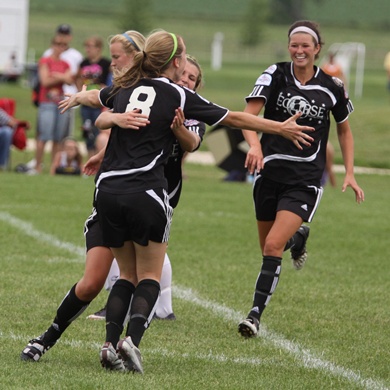 One of the best races for a State Cup title this year occurred among the U-17 girls, with Eclipse Select taking the crown in a 1-0 win over Windy City Pride.
Eclipse won 2-1 over FCX North Black in a semifinal game on Saturday, before Georgiana Wagemann's goal stood as game's lone goal in Sunday's title game win for Eclipse.
Wagemann located a ball 18 yards out in the second half, looked up, and let fly.
"The ball just got knocked out to me and it just seemed like the natural thing to just shoot it," Wagemann said. "It seemed like everything went quiet and I just shot it."
"I was kind of surprised but everyone was telling me and Megan York that we needed to get a goal, so I thought the opportunity would come at some point. And when it did I just had to step up."
Eclipse Select opened their bracket with a 4-0 win over Galaxy SC Blue, and followed with a 5-1 win over Fox Valley Strikers Premier. Eclipse led 2-0 in their semifinal against FCX before an Emily Hyde goal brought the North team to within a goal of tying the semifinal game.
Eclipse hung on in the face of FCX numbers pushed forward by coach Stuart Peek.
"We went crazy at the end. The next time you see a team play with two defenders for the last ten minutes, let me know," Peek said. "But you've got to chase the game, because 2 to 1, 3 to 1, or 5 to 1 – it doesn't matter. So we're going to go home trying to win the game."
"We're a good team and they're a very good team as well. We're at about the same level but they do what they do – they finish their chances and they're very organized. They're clinical. That's why they're as good as they are."
Peek appreciated the effort his girls gave in the loss, and pointed to the example that two of his players set throughout.
"Amanda Filian and Stephanie Pouse – I told the girls that's the level they need to play to," Peek said. "If they can give the amount of effort that those two give a team, we'll be nearly impossible to beat. Those are the two that really drive the team."
FCX reached the semifinals with a 2-1 win over Ela Elite and a 2-1 win over FC United Select.
Windy City Pride reached the title game with a pair of 3-2 wins against St. Louis Scott Gallagher and Crystal Lake Force Elite, plus a 3-0 win over Ela Red.
The title game between the Pride and Eclipse was slightly sluggish in the first half. At halftime, Wagemann and her teammates were given a choice.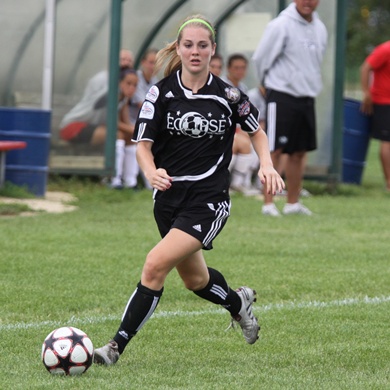 "I didn't think it was that strong (a first half) but (coach Mike) Nesci and (coach) Rory (Dames) talked to us at halftime and we had a reality check," Wagemann said. "We had to pick it up. We had to do this or we weren't going to regionals. We knew we had to get the job done."
"I think part of it was the weight of the game and all the pressure of the first fifteen minutes. We had to work ourselves through it."
After Wagemann's score, the Pride pushed hard for an equalizing goal.
"It got tough at the end because they started packing everyone to our side," Wagemann said. "It was really difficult to defend so (the Pride) did a good job with that. Thankfully, our back line was able to persist."
"The game is all mental and we were able to mentally get through it. Our coaches always stress mental toughness and that's one of our strong points."