McLean makes debut as Redhawks beat Young in opener
By Eddie Burns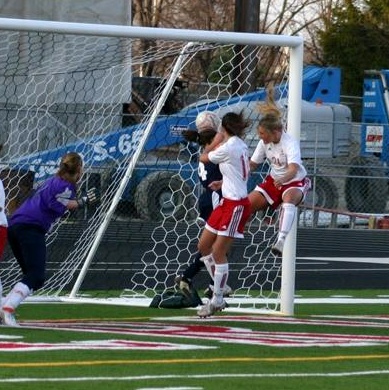 Injuries have plagued Taylor McLean for the past three years, effectively sidelining her varsity career.
That all ended on Thursday when McLean, now a senior, finally had the opportunity to make her debut.
McLean started in goal for Naperville Central during its 6-1 win against Whitney Young at Memorial Stadium.
"It was really exciting," said McLean, who discovered she was playing shortly before the match. "I just tried to keep my head in the game and not freak myself out."
McLean was scheduled to dress for her first varsity match as a freshman, but a concussion prevented that from occurring.
Then shortly before the start of practice of her sophomore and junior seasons, McLean suffered season-ending knee injuries, one to each knee – one year it was the left knee and the next it was the right knee.
Since that time sophomore Jill D'Amico has secured the starting position in goal. D'Amico earned all-state honors as a freshman last season.
"Taylor's waited a long time," Central coach Ed Watson said. "She relished the opportunity today and it was great to see her out there."
McLean started because D'Amico was unavailable and McLean enjoyed every minute of her chance.
"It was really nice to finally get out there on the field," said McLean, who made a handful of saves.
"To hear my name was pretty cool, I tried not to show too much excitement and over-pump myself. I just tried to keep it inside and stayed focus on the job at hand."
For McLean, it marked her first game action outdoors in more than two years. McLean continued playing during the indoor seasons each of the past few years after she rehabbed from her injuries.
"It was nice to see how well I could play and see where I fit in," McLean said. "It was good to see how well I could play outdoors because it has been a while."
As for the game itself, Kristin Adams tallied Central's first goal of the season shortly before halftime. The Dolphins (1-1) tied the match at 1 shortly before halftime when they converted a penalty kick
.
"I am kind of mad about the penalty kick," said McLean, who plans to play soccer at Carroll University outside of Milwaukee. "I had it, but that is OK. I tipped it, but just didn't come forward enough."
The Redhawks (1-0-1) pulled away in the second half when they netted five goals.
"We did a really nice job for 25 minutes in the second half," Watson said. "When the ball moved crisply it is amazing how good we can look."
Gina Maddi's two goals led Central. Hillary Scott, Autumn Muckenhirin and Julia Pratapas each added goals for Central. It was Pratapas' first goal at the varsity level.
"The neat thing about high school soccer is that you get kids who have played multiple years and it is old hat to them," Watson said. "Then you get a kid who has waiting patiently for an opportunity to score like Julia and you could just see the joy in her when she put that one away."
Pretty much every player who dressed received playing time as Watson continuously shuffled players in and out of the lineup.
"We are trying to figure out what we have," Watson said. "We're looking at everything."
Watson liked what he saw out of Muckenhirin, who was one of two freshmen he brought up for the match. Muckenhirin tallied her goal in a breakaway situation.
"What I really liked about breakaway was how she looked when she was shooting the ball," Watson said. "She looked like she knew exactly where she was playing it and didn't seemed rush. I like seeing that type of composure."