Red Devils fall to Neuqua Valley in regional title game
By Gary Larsen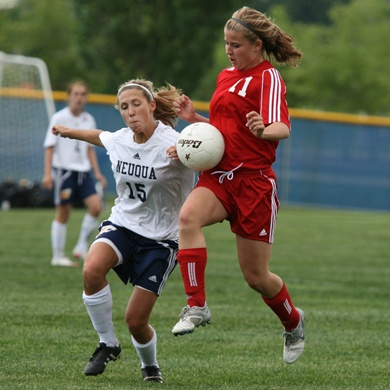 Hinsdale Central just played a season in which their leading scorer from last season didn't return and they lost an all-state caliber goalkeeper due to injury.
Still, a core of seniors including Melissa Boduch, Tori Sims, Molly Gaffney, Allison Roberson, Lena Husayni, Abby Morrison, and Olivia Trilla kept at it during a trying 9-13-1 season, as did keeper Nicole D'Agostino before being lost for the year with an injured knee.
"They're all good kids, going to great colleges, and they all come from good families," Red Devils coach Skip Begley said. "They're hard workers, and all of those seniors were a big part of last year's team. You can't take (the 2009 state title) away from those kids."
The Red Devils' rough year ended in a Class 3A regional title game when they lost 4-0 to Neuqua Valley on Friday.
"Our kids played hard but what has (Neuqua) lost, three games?" Begley said. "It's not like we're coming out and playing the Sisters of the Poor. But as well as we played last year we just had difficulty this year.
But the sun will come up tomorrow, they tell me, and we'll come back next year and see what we can do. I'll still say I coach at Hinsdale Central and that's my team. I'm not ashamed to walk off the field and tell anybody that."
Once 2nd-seeded Neuqua Valley took the game's momentum away from 10th-seeded Hinsdale Central on Friday, the Wildcats were pretty selfish with it.
After a Red Devils' goal was called back eight minutes in, the Wildcats slowly began showing the form that earned them an 18-2-2 record heading into the game, on their home field in Naperville.
"The first ten or twelve minutes we just didn't play very smart. We were going backwards rather than forward and you can't do that," Wildcats coach Joe Moreau said. "Early in a game you've got to really pressure or they'll be coming at you."
The game's second turning point came in the 23rd minute, when Neuqua Valley junior Allie McBride beat Central keeper Melissa Boduch to a ball in the goalmouth and scored to get her side on the scoreboard.
"It was just really good timing and I just slid in and got the first goal," McBride said. "I knew I could get there first. We felt like the first goal really loosened it up. You could tell that the energy changed completely."
"The momentum was with (Hinsdale Central) before the goal and with us after the goal, for the rest of the game."
Hinsdale Central went into Friday's game after a season of scoring woes, but also on the heels of a regional semifinal win over a 20-win team in Plainfield North on Wednesday.
"I thought we scored a nice goal and it got taken away, and we've had such a hard time scoring," Begley said. "It's one of those things. Last year everything bounced right and nothing bounced right for us today."
One minute after McBride's goal, Neuqua Valley's Zoey Goralski stepped into the spotlight. The freshman netted her first ball of the day after dribbling across the top of the Red Devil's penalty area and hitting a one-hopper that Boduch deflected into goal.
"I thought Zoey played well and all four of our freshmen played pretty solid," Moreau said of Goralski, Brooke Ksiazek, Hope D'Addario, and Gianna Dal Pozzo. "A lot of freshmen in the area are getting noticed but we'll take our four freshmen. They're solid."
Boduch turned away a Noelle Leary shot at the post in the 28th minute, and at halftime the senior returned to her normal role as a field player to start the second half. Central senior field player Tori Sims replaced Boduch in net.
"We had our fifth and sixth persons playing in goal, with no experience, but there were just no other options," Begley said. "But you can't fault those kids. They don't train to do any of that stuff."
None of the three goalkeepers listed on the Red Devils' roster were available for duty down the season's stretch.
Courtney Ksiazek made it 3-0 in the 44th minute, stretching the back netting with a shot from 18 yards out, and Goralski scored her second goal in the 76th minute. With a full season under her belt, the freshman is fully acclimated to the speed and physical nature of high school varsity soccer.

"I was definitely a little scared of the physical part of it, because I'm a little small," Goralski said. "But the whole team just pushes you, and I got used to it."
The Wildcats played without the services of senior Megan Oyster on Friday, who sat out due to injury but is expected back soon. Moreau was pleased with the play of his back line.
"We're playing pretty solid defense even without (Oyster)," he said. "Our back four has been solid. Brenna Vogel played real good in back and I thought our girls in back played well in general. They gave up very few chances."
Vogel, Shannon Pimmel, Lauren Noonan, and Lisa Nuccio kept keeper Alexa Wilde well-protected in earning the Wildcats' 12th shutout of the season.
"Everyone is extremely aware that Megan is a very talented player and key part of this team," McBride said. "But we still have a bunch of talented girls on this team, we're still strong, and we showed that today. We'll be better when she gets back but until then we have to keep our heads high and keep going forward."
The Wildcats take on Wheaton Warrenville South in a sectional semifinal game at Naperville Central on Tuesday, after the Tigers won 3-0 over Downers Grove South in their regional title game on Friday.
The Red Devils will return a core of juniors with solid experience in Katie Tarman, Allison Donnelly, Mary Cefaratti, Eryka Hawkins, Alaina Cafaro, Kate Shea, Erin Conroy, Julia Gesior, Drea Issleib, Mallory Feinstein, and Jaclyn Gutman.
Sophomore Lauren Shroyer and freshman Jenn Jarmy will also be back next year for a proud program that weathered a difficult season.
"They kept working. I'd say we had issues at times, just like any team does. I'm not an easy guy to play for, I don't think, and some of them aren't easy to coach," Begley said. "But we worked through it and I thought we put forth a good effort today."

CLICK HERE FOR RED DEVILS' TEAM PAGE
CLICK HERE FOR RED DEVILS' PHOTO PAGE