Red Devils, Boduch get it done against Plainfield North
By Gary Larsen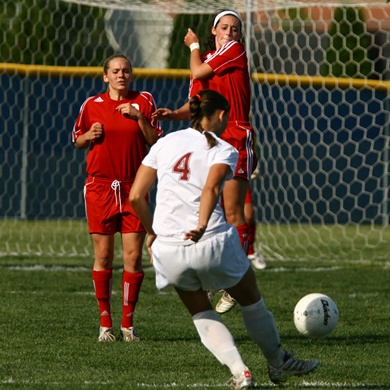 There are three goalkeepers listed on Hinsdale Central's varsity roster, but none were available for Wednesday's regional opener against Plainfield North.
Since Red Devils coach Skip Begley additionally didn't want to put his freshman-level keeper into such a high-pressure situation, he had to go five deep on his goalkeeping depth chart, which invariably meant that a field player would be putting on the gloves.
Have no fear, Melissa Boduch is here.
"We had to withstand some early pressure and Melissa did well for us in the goal," Begley said of his senior. "This is her fourth or fifth game in goal. She reads the game well, she comes out on balls, played with feet, came out and headed a ball away – so maybe what she gives up in shot-stopping and position, she makes up for in other ways."
When was the last time Boduch played in net? "The Hinsdale Hurricanes, in seventh and eighth grade," Boduch said. "But it was nothing like this."
Boduch withstood an early barrage of shots on net and good attacking pressure throughout the first half of Wednesday's game. She saved everything necessary and played solidly the rest of the way to give Hinsdale Central a 3-0 win over Plainfield North.
Boduch's ability to keep the slate clean early on affected the rest of the contest.
"We were in their goalmouth, we were in their box, and I think if we finish one or two of those in the first ten minutes, it's a completely different game," Plainfield North coach Jane Crowe said.
Wednesday's Class 3A regional semifinal game pitted the 10th-seeded Red Devils against No. 7 Plainfield North. North went in with a 20-4-1 record but Crowe knew that her young squad would have to bring its 'A' game against a defending state champion team loaded with juniors and seniors, no matter what Central was seeded.
The Red Devils went into the game with a record of 8-12-1, but their rock-solid schedule paid dividends on Wednesday. The win sent the Red Devils into Friday's regional title game against No. 2 Neuqua Valley, a 7-0 winner over Plainfield Central on Tuesday.
Begley doesn't mind the underdog status his squad held heading into the regional.
"(Plainfield North) is the higher seed, they've got twenty wins, and we're barely lucky enough to get a bus to show up," Begley said. "So we'll try it again Friday."
The Tigers attacked well throughout the first half, but with Boduch playing solidly the Red Devils capitalized on a pair of first-half scoring chances. In the game's 17th minute, junior Mary Cefaratti took a ball to the end line on the right side, turned the corner, and served a ball to the box.
Senior Molly Gaffney was on the spot to tuck a shot inside the near post from 8 yards out. "We've been practicing that forever but it hasn't really happened much this season," Gaffney said of the play. "I'm left-footed and it came right to my left foot."
The Red Devils have now netted 30 goals in 22 games in a season of offensive struggles.
"We've talked about going to the goal and getting to the end line, and the first goal was a direct result of Cefaratti getting to the end line and Gaffney with a great finish in front," Begley said.
Gaffney fired on net again in the 28th minute, junior Jaclyn Gutman was there to follow it up and bury it, and the Red Devils led 2-0 at halftime. "That was Molly, again, getting from left back and getting to goal," Begley said. "It kind of got deflected and Jackie put it in one-touch."
A 2-0 lead may be the most dangerous lead in soccer, but Central only had to live with it for five minutes of the second half.
That's when Central junior Mallory Feinstein streaked onto a perfect through-ball sent from midfield by junior Eryka Hawkins. Feinstein got behind the Tigers' defense and converted her scoring chance, and the game's scoring was done.
It was the third time this season that the Red Devils had managed to put at least 3 goals on the scoreboard. "We haven't had the best season but we're all determined to do well," Gaffney said. "All the games before this were preseason, so let's come out new and try some new things."
Begley was happy with his side all over the pitch.
"Some people played more than they wanted to, some played less, but they all got the job done," Begley said. "Gutman's a prime example. She maybe only played ten minutes but she gets us that huge second goal."
Boduch departed the goal late in the contest and senior field player Tori Sims switched places with her. Boduch has benefited greatly from having teammate Nicole D'Agostino helping her out in net.
D'Agostino is one of Illinois' best goalkeepers but she was lost to injury on April 14.
"During practice now, she's my coach," Boduch said of D'Agostino. "Even during games, she'll tell me what to do. She helps me out a lot. You have to be aggressive in goal and it gets scary. Now I understand how hard it is back there."
CLICK HERE FOR THE RED DEVILS' TEAM PAGE