Wildcats defeat hosts to capture DG South Invite title
By Eddie Burns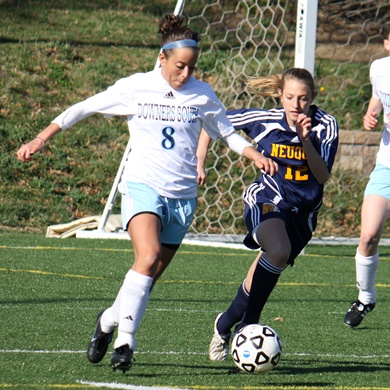 The high school soccer season is so short that the sooner a team comes together the more likely it is that it will succeed.
However, with players spread out on a variety of club teams it tends to take longer for that bonding to take place.

Neuqua Valley took a big step in coming closer together this past week as it went unbeaten on its way to claiming the Downers Grove South Invitational championship.
The Wildcats secured their title with a 2-1 win against the host Mustangs on Saturday at Doerhoefer Park in Downers Grove.
"We've bonded well and we played really well together out on the field," freshman midfielder Gianna Dal Pozzo said. "We have a lot of talent and it showed this week.
"I had a feeling that we would do well this year despite people talking about other teams. This should give us confidence and prove to ourselves that we'll be right there with the best teams."
The Mustangs were the aggressors early on, which led to their goal in the 14th minute when Katie Mossman played a ball to teammate Keri Kujawa in the Neuqua penalty area.
Kujawa had a one-step advantage on Neuqua goalie Alexa Wilde, but as Kujawa went to make a move she was fouled by Wilde, which led to a penalty shot.
Downers South's Megan Martin took the penalty shot and beat Wilde to the top right of the net to give the Mustangs a 1-0 lead. It was the first time all season that Neuqua had trailed.
The Wildcats (3-0-1) eventually found their possession game and tied the match in the 37th minute thanks to some swift passing.
"I thought we responded well," said Dal Pozzo, who managed to tie the match at 1-1 with her goal shortly before halftime.
"We didn't panic (when we fell behind). We switched to a 4-4-2 and we started moving the ball around much better."
The goal was significant because it provided Neuqua with momentum heading into halftime.
"It was extremely important because we didn't want to chase the game in the second half," Neuqua junior midfielder Noelle Leary said.

Neuqua continued its strong play against the Mustangs (4-2) into the second half.
The Wildcats netted the winning goal when junior Moran Mulcahy used her right foot to send a cross into the Downers South penalty area.
That's where Leary knocked the ball past goalie Amanda Meyers to give Neuqua the lead for good in the 46th minute.
"I saw the cross coming in, and it was a great ball," Leary said. "I just tried to keep the ball down.
"I didn't want a happy-birthday header, which is when the ball pops straight up in the air. I just figured I'd run through it and I finished it with my head."
Downers South's best chance for the equalizer occurred moments later when Lauren Rusk had a chance at a loose ball near Neuqua's goal, but Wilde and the Wildcats managed to snuff out South.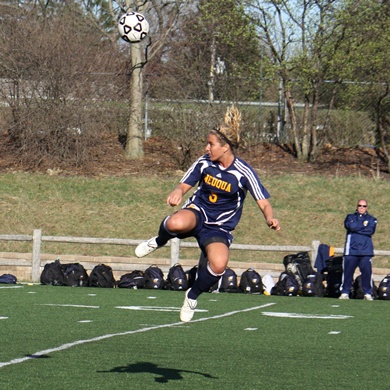 Wilde played the entire game in goal and came up several big saves.
"Early in the second half we didn't get down on that one ball and that could have changed things a little bit," Mustangs coach Barry Jacobson said.
Wildcats coach Joe Moreau downplayed the significance of winning the tournament, which also featured Lincoln-Way Central and Hinsdale Central.
"Winning the tournament is not a big deal," Moreau said. "It's that you're playing three quality well-coached programs. Coaching-wise, it's bragging rights between the four of us."
Neuqua kicks off Upstate Eight Conference play this when it travels to Elgin on Tuesday and entertains Bartlett two days later.