Talented North Stars roll past Lockport in opener
By Matt Le Cren
Photos courtesy of Deanna Gage
The rain stopped just before kickoff and the sun broke through the clouds in the second half.
It seemed to be a sign of things to come for St. Charles North, which kicked off a season of high expectations by thrashing host Lockport 6-0 on Saturday.
The North Stars, who boast six Division I players and five four-year starters, showcased stunning speed and finishing capability on a lush but wet grass field.
North, one of the last teams to begin play this spring, was relentless from the start and out shot the Porters by a 30-1 margin.

"We hear about teams that [started] playing two weeks ago and we've been running and training, and I think it pays off in the end to be completely in shape and then we can outrun our opponents and be mentally and physically prepared," senior forward Paige Dusek said.
"We were really eager to play and I think that's part of the reason why we finished so well. Because we had to wait so long, the intensity was up.
In Dusek, senior Leah DeMoss and sophomore Lauren Koehl, the North Stars have one of the most talented trio of forwards around.
When senior midfielders Alyssa Peterson and Alecia Natale push up in support, North can be hard to stop.

Dusek and DeMoss both scored twice against the Porters (1-3), while Peterson added a goal and two assists and Koehl had the other score.
"I think [DeMoss] is going to be one of the most dangerous forwards around," North coach Ruth Vostal said. "I think teams that know about her are going to put two people on her.
"But if you look at the other forwards that we have, with their speed and the combination of the three of them, they all found the back of the net and I think it's going to be hard to stop them all."

Lockport couldn't slow down, much less stop, any of them. Dusek opened the scoring with a 15-yard shot off a Peterson feed with 23:00 left in the first half and DeMoss made it 2-0 at the 19:25 mark.

Porter freshman goalie Alyssa DeYoung, who was outstanding in making 11 saves, managed to keep her team within two goals for the rest of the opening half.
But in the second half the floodgates opened as the North Stars dribbled through and around the Porters with alarming ease.

Koehl made it 3-0 with 36:27 remaining, running onto a long pass from junior Sammy Gage, dribbling past a defender into the box and firing against her body into the middle of the net after DeYoung moved to cover the left post.

DeMoss increased the lead to 4-0 at the 20:13 mark on an assist from senior goalie Kristen Manski, who punted the ball to midfield. DeMoss settled it and then raced 50 yards up the field en route to her second goal.
Two minutes later, she passed into the box to Peterson, who won a challenge from a charging DeYoung and tapped in the fifth North Stars goal. Peterson then set up Dusek to finish the scoring with 6:01 left.
DeMoss, an Iowa recruit, and Dusek, who has signed with Drake, will spearhead their team's offense.

"I've been playing with Paige for four years so it's very comfortable between us up there and then we have Lauren Koehl, a new sophomore, and she's doing really well," DeMoss said.
"I was really excited that we came out with a bang and coach was excited about it. We've just been waiting for so long, especially with expectations so high; to start like this is good."

The talent is not just up front. Peterson (Ball State), Manski (Valparaiso), defender/midfielder Meryl Behm (Kansas) and junior defender KK Barr (Northwestern) will also play Division I soccer.
DeMoss, Manski, Peterson, Dusek and Natale are four-year starters. Defender Kara Miller is the seventh senior starter and Manski's sophomore sister, Lisa, also starts.

"I look at it every year and think that we should do well," Vostal said. "We're looking to improve with every game, looking to challenge ourselves. But I think we take one game at a time."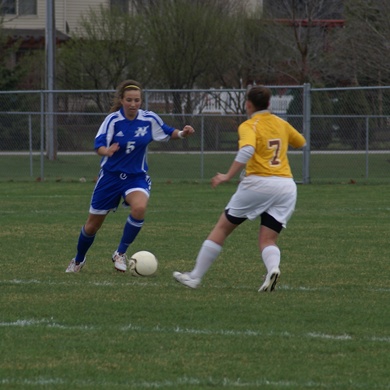 Judging by the first game, the North Stars have reason to be excited.

"The first game sets the tone for the rest of the season and to come out strong after a tough preseason, we've been working hard and we've had a lot of new players and they're all doing great," Dusek said.
"To start off the season with six goals is a big accomplishment for us. Hopefully we keep it up."

The North Stars are hoping to qualify for the state finals for the first time since they took second in 2004. They have an easier postseason road than most of the other top teams.

"Every year we're like, 'Let's go to state,' " DeMoss said. "Of course, I want to go to state, but this year we're just taking it one step at a time. We've still got some stuff to work on, but I think we'll do it."
North returns to action on Tuesday when it kicks off Upstate Eight Conference action with a 4:30 match against South Elgin in Streamwood.