Hawkins' goal dooms Plainfield Central
By Gary Larsen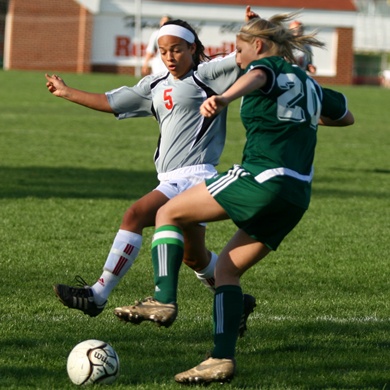 There's no great secret to players that shine in the attacking third of the field.
"When you miss a shot you have to say 'give me another one'," Hinsdale Central coach Skip Begley said. "Scorers have short memories. They want the ball."
A Red Devils team that is working to figure out its scoring climbed above the .500 mark thanks to a second-half goal by Eryka Hawkins, in a 1-0 win over visiting Plainfield Central.
Hawkins did what a good forward does in following up a shot taken by teammate Mallory Feinstein, from 18 yards out in the game's 46th minute. It was the junior's third goal scored this year.
"Mallory shot it and the keeper (deflected) it," Hawkins said. "I was standing in front of the goal. That's what coach said, that you have to be in front of the goal to score."
Red Devil senior defender Allison Roberson pointed to the patience that her side has had to have as finishing develops.
"We get a little frustrated but we're a team and it's just something we have to keep working on," Roberson said. "In the beginning of the second half we got a lot of balls on (frame). Our forwards got onto a lot of balls."
The Red Devils (4-3) dodged a few bullets in the first half from the visiting Wildcats (3-4), who sent a few good chances just wide on the counterattack. Hinsdale Central's attack and midfield play kept the pressure on the Wildcats for much of the contest.
"Today I thought (Abby) Morrison at that wide midfield spot played hard, and we've talked about that," Begley said. "We've said 'if you're not first, you don't play', and so I was pleased with her play."
"I also thought (Drea) Issleib in the central midfield played well. She controlled the ball out of the air. She did a nice job of winning balls and not letting (Plainfield Central) collect balls and build out of the middle."
Prior to Hawkins' goal, Hinsdale Central's Lena Husayni reached the end line on the left side, cut it back and sent a good serve to the far post, but no Red Devil was able to get to it.
"(The attack) is a work-in-progress but it's definitely an improvement since Day One," Hawkins said. "I think we'll be okay in a couple of weeks. It's a matter of finding people to step up and knowing where to be at the right time."
Begley likes the potential he sees in Hawkins and Feinstein up top. "If they keep working together and score some goals for us, that can only help us. They've both hit decent balls and decent shots, and they'll have to become consistent scorers for us," Begley said. "I think they both have the mentality to be a goal scorer."
In the meantime the Red Devils will rely on a pair of veterans in defender Roberson and goalkeeper Nicole D'Agostino to help batten down the defensive hatch.
"With (D'Agostino) in goal we think we have a much better chance to not lose," Begley said. "She and (Roberson) have been our two mainstays in back, and Tori Sims has been somebody we're looking to for senior leadership back there. She was playing up top but has really done well the last couple games in the back. She's learning that central position."
Erin Conroy, Jaclyn Gutman, Kate Shea, and Julia Gesior will all continue to see time on the outside in back for Central. Another bright spot on the horizon is the pending return of Melissa Boduch, a contributor to last year's state title season.
"When we get Boduch back, we'll be better. She had a quality year last year so we're looking to add her to the lineup," Begley said. "We may use her in the central midfield, just to try to give us a little more offensive thrust. She's got good leadership skills and good communication skills."
For D'Agostino, Friday marked her second game back in net after missing two games with sun poisoning, against Neuqua Valley and Lincoln-Way Central. Junior Katie Tarman was solid in net against Neuqua, but suffered an injury that knocked her out of action.
With his starting and backup keepers unavailable, Begley did what he had to do prior to last Saturday's game against Lincoln-Way.
"We called up a freshman who just happened to be home and we just said 'hey, do you want to go play?' Begley said.
Freshman Katherine Knoch agreed, "and she played a solid game for us," Begley said. "She kept us in the game. She didn't seem to be afraid and she did a quality job. But we certainly hope Katie Tarman can get healthy and she certainly needs to be ready next year because she's an heir apparent (to D'Agostino)."