Marmion's O'Connor caps stellar teaching, coaching career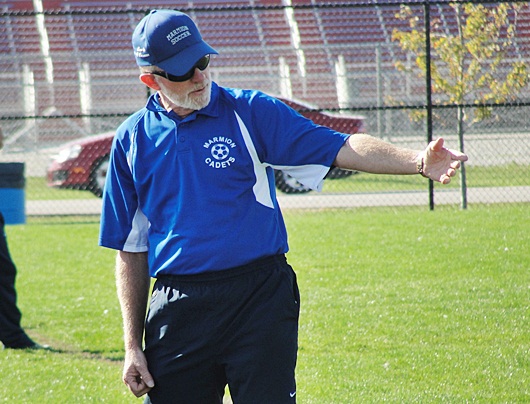 CLICK TO SEE MONDAY'S MATCH PHOTO GALLERY

CLICK HERE FOR MARMION'S TEAM PAGE
By Steve Nemeth
Monday's home match with Oswego was much more than just the home finale this season for Marmion Academy.
It marked the last time that veteran coach Kevin O'Connor coached the Cadets at the campus in Aurora.

As Marmion Athletics Director Joe Chivari said last week when O'Connor revealed this 16th varsity campaign would be his last season, "You can't leave, you're like a piece of comfortable furniture that you can never imagine being without."

To which O'Connor replied with his traditional Irish wit: "I guess I've been called worse.

"Seriously, I consider myself the luckiest man on earth. I have a wonderful family, a most rewarding career that has never felt like I had a job," O'Connor insisted.
"I'm so thankful for the blessings God has bestowed on Kevin O'Connor. From sixth grade on, I told my parents, teachers, anyone, I want to be a teacher and a coach.
"I believed my mission on earth was to have an influence in shaping young lives in a positive way. That's a vocation, not a job. I just hope that in some small way, I've been faithful to that mission and succeeded to some measure."

What an understatement for a native New Yorker who had never been further west than Buffalo when he flew into Chicago in the fall of 1976 to interview for a job at Kennedy School in Palos Park.
After two years as a special needs instructor, he landed a physical education post at Joliet's Laraway Middle School where he was also given the task of coaching fall baseball, winter basketball, plus spring track and field.

That's where O'Connor began using the "passion to win" in his DNA as a coach after having been a basketball/soccer player in high school.
While he played only soccer at Cortland State (1976), knowing "a 5-8 guard wasn't going to be much at the college level," he became the volunteer manager for the Red Dragons performing the duties of today's Director of Basketball Operations.

His first year at Laraway became his "most important" in meeting a fellow teacher who he married.
O'Connor and his wife Mart recently celebrated their 32nd wedding anniversary and the timing of her retirement as an instructor at Neuqua Valley and his isn't just a coincidence.

"At first I thought about the pros and cons of continuing only as a coach, but this gives us the freedom and flexibility to travel, take the grandkids with us, and we can never have enough time with them," O'Connor added.

Having coached Laraway's undefeated 1980 baseball team to an Illinois Elementary School Association state championship, he then directed the sophomore basketball squad at Providence Catholic.
That led to his hiring at Batavia as not only an instructor, but P.E. department chair, head varsity hoops boss and the founding coach of a soccer program.
Despite two winning campaigns on the pitch and being the third basketball coach in three seasons, O'Connor was let go; a situation he accepted simply as another challenge leading to a 26-year career of elementary school teaching in West Chicago.

"Teaching at West Chicago was the best thing that ever happened to me, professionally, domestically, financially and career-wise," noted O'Connor, who served as Waubonsee Community College's men's soccer coach from 1985 through 1987.
"When my boys started playing club soccer, I got involved coaching them kindergarten through eighth grade with the Tri-City Soccer program."

When his older son enrolled at Marmion, that's when O'Connor helped the Cadets start the program in 1994. What has followed is a lifetime of memories, and a ton of success with O'Connor boasting a 247-104-36 career record (.685 percentage) following a 5-2 win over Oswego.

Under his tutelage, Marmion has produced 10 Division I players and another 35 who've played collegiately at Divisions II and III plus NAIA programs.
Last Saturday's 9-0 victory at St. Edward was his a belated birthday gift for the man who turned 57 on Friday.
His and Marmion's history began with a 2-1 victory over West Aurora in the school's first-ever match at the frosh-soph level.
In 1996, the initial varsity contest was a 7-3 loss to West Chicago whose coach (Bob Owens) said "just watching your team warm-up, I can tell you're going to have a successful program."
Varsity win No. 1 came in game two against Illinois Math and Science Academy and the memories of notable players, matches, and events cascade from there.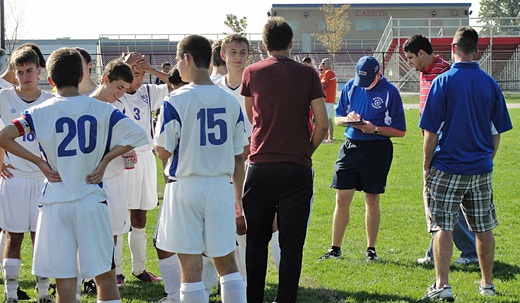 "From 1998 through 2004 we had a 58-game (Suburban Catholic) conference unbeaten streak," O'Connor said. "In 1998, we won a regional game when Kevin Joy curved a corner kick into the net.
"In 2000, Matteus Alvarez took five shots and had four goals in the first half and finished with five against East Aurora. I can still picture Ricky Del Toro's bicycle shot late in the second half to beat Marian," O'Connor recalled.
"In 2002, it was Joel Del Toro's goal in the final minute of the Larkin tourney which was our first win ever over West Aurora.

"We made the championship of the tourney and had to go to a (penalty kick) shootout. The Cary-Grove coach astutely noted that Gerardo Alvarez had taken off his shin guards before shooting.
"I convinced the official to let him put his shin guards back on and re-take the PK. He made it and the Cary-Grove coach wasn't happy. Maybe the situation falls under a player being 'improperly equipped,' but it was one of my best sales jobs ever.
"I thought the ref made a great call, it's probably one of the very few times a ref agreed with me," O'Connor joked.

"We were playing in a regional up at Marian when some of our fans got too boisterous after a call went against us," O'Connor said.
"The referee kicks four of whom he assumed were our parents out of the stands, but one of them was Father Andrew, who drove our bus. Another parent told the ref the good father was truly innocent and to throw him out in his place and the ref obliged.
"Getting invited to play in the Barrington tourney is itself an honor but I remember in 2003 when little Marmion had to play huge Evanston and we beat them 2-1, then beat Lake Zurich 4-0 with Joel Del Toro scoring all four goals and Eric Hermosillo having al four assists. We beat Libertyville on PKs that year to take third and we've made the championship twice."

O'Connor also fondly recalls a special display of camaraderie by last year's team when the Cadets regional championship at Burlington Central had everyone huddled inside their dugout during a torrential rain and lightning storm.
The players entertained themselves and fans under umbrellas by the school's entranceways with a medley of songs starting from Desperado to America the Beautiful before O'Connor himself did a jig while singing McNamara's Band.

With the support of alumni, friends and players family, Marmion has fund-raised to make summer trips to Brazil for a combination of training and missionary work.
The first was in 2004, then 2007, and this past summer was latest with the Cadets bringing 10 suitcases of school supplies, shoes, plus children's medicine and vitamins for an orphanage where they not only spent time daily with the children, but helped pay for and build a "futsal" court.

"Those Brazil trips are all highlights, not just from a soccer standpoint, but from the experiences the players had the missionary component with the children. Those are as important as any victory we've had on the field," O'Connor insisted.

Needless to say, the current players view themselves as the fortunate ones for having been mentored on and off the field.

"The first thing you think of Cadet soccer is coach O'Connor. He is the program," said Alex Ruble. "His coaching has expanded my game, given me a lot more confidence in my ability to lay a higher level."

"He's a father figure to all of us," Mick Maley added. "I am so sad to see him go only because he's made soccer so much more enjoyable for so many players. It's incredible how many alumni have contacted me having heard the news.
"He stays in contact with everyone, it's just part of how he cares and makes part of a brotherhood. We'd all do anything for him and as much as we're happy for him, it's sad to know such a great career is coming to an end. I know it's not enough, but I hope we can honor him with how we play."

"Coach started the program and there's never been a losing record, that says so much," Mike Frasca noted. "He's helped Maley and me with the college process and has driven me to be the best I can. It's a loss not just for Marmion, but the entire area."

"I love coach O'Connor," Joe Romanos stated. "He's the Father of the Marmion program in so many ways. He made my transition into the program easy and he's always there to support us, not just athletically, but academically and personally. He has a presence on a personal level with everyone he has come in contact with."

O'Connor and his wife are understandably proud of their immediate family as well. Mollie, the eldest child, followed her passion for theatre and continues to teach at the middle school level in Oak Park.
The middle child, Reilly, who was Marmion's first Division I player, is a lobbyist in Washington, DC, for the Wine and Spirits Wholesalers of America while Cory, the youngest, is in orthopedic sales in Chicago.

Chivari doesn't relish the idea of having to find a successor.

"Kevin is synonymous with Marmion. Not only is he our only coach, but he's a mark on the program that will not be erased," Chivari concluded.

Rather than a piece of furniture, Kevin O'Connor's impact and legacy is clearly part of the bricks and mortar of Marmion.