Vikings fall in state semifinal round to Naperville Central

CLICK HERE FOR FREMD'S TEAM PAGE
By Gary Larsen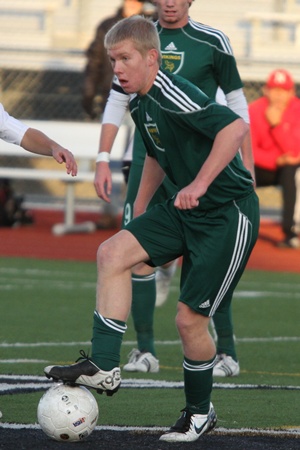 The best goalkeepers will run out onto that tightrope.
Capping a four-overtime state semifinal soccer game that included a 6-minute span of pure madness, Naperville Central's players were putting coach Troy Adams' mind at ease heading into Friday's shootout against Fremd.
They had a message for him about Central goalkeeper Mike Pavliga. "They said 'we're good. He lives for these things'," Adams said.
"It's just an insane moment when you read the shooter right," Pavliga said. "It's fantastic. I love going into PK shootouts. I've been like that since I was young."
Pavliga didn't just read one shooter right; the junior read four shooters right and stopped three of them in the shootout to send his team into Saturday's Class 3A state title game.
Naperville Central will return to the state title game for the first time since 1988, when the Redhawks were runners-up to Buffalo Grove.
"This year is special," Pavliga said. "These boys are special. We've worked hard from the first day in August to November. It's a long season but we've all stayed strong, stayed healthy, and we've been playing great.
"I'm so proud of the boys, and I also have to hand it to Fremd. They played great."
The Vikings (16-6-2) and Redhawks (19-4) upset higher sectional seeds to get downstate, and both proved they belonged there in a wild and heated state semifinal battle.
Naperville Central opened as the stronger side, getting to balls first and establishing a pattern of hard play through 40 minutes. The Redhawks were rewarded for the effort in the game's 27th minute.
On a Blake Beehler flip-throw to the near post on the right side, the Redhawks' Conner Allen challenged Fremd goalkeeper Colton Caesius in the air. The ball bounced free to the middle of the goalmouth, where the Redhawks' Adam Hamielec hammered it home with malice.
More worrisome for Fremd than the 1-0 deficit was the fact that the Vikings weren't playing with the intensity that brought them to the big dance. And if there's one thing you learn quickly in talking to Fremd coach Steve Keller, it's that he values a high work rate above any other quality.
"That's why we're here," Keller said. "It's one of the things we talked about going into the postseason and we didn't have the right intensity in the first half, when (Central) dominated play. That's what we talked about at halftime because it didn't seem like we were ourselves."
The Vikings returned to form in the second half and began matching the Redhawks challenge-for-challenge, as the teams worked to find feet in the face of no-time, no-space, lunch bucket efforts both ways.
A more determined Fremd team tied the game at 49 minutes on a Brian Hindle goal, and for the next 20 minutes or so the 1-1 tie featured a second half worthy of the state finals.
And from the 69th through the 75th minute, fans witnessed the most eventful span of soccer played in Frankfort all day.
It started when Central's Hamielec took off with the ball on a diagonal run towards the left corner and crossed a ball to the far post. Allen was there to poke a ball past Caesius at 69 minutes, giving Central a 2-1 lead.
Two minutes later, Fremd tied the game when Jeremy Kosacz scored on a serve sent over by Spencer James, and three minutes after that the Vikings took a 3-2 lead when Hindle was tripped in the box and converted the penalty kick past Pavliga.
Less than a minute after Hindle's PK, Central's Jay Tegge finished the wild stretch of play by scoring to force a 3-3 tie.
"For about ten minutes it was some of the most exciting soccer that can people can see," Adams said. "Up and down the field, back-and-forth, both teams working their tails off – you could see how exhausted both teams were at the end.
"That's the great thing about making it to this point, playing high school soccer and giving it everything you've got to try to get to where you want to go."
The overtime periods saw Caesius make a pair of spectacular saves on head shots taken by Allen, before Pavliga grabbed the spotlight in the shootout. Goalkeepers need short memories, and Central's keeper went into the shootout without recollection.
Pavliga guessed correctly on the first Fremd shootout attempt, diving right only to see the ball nip his fingers and settle in the net.
"I think you have to have a different mentality to be a goalkeeper," Adams said. "You have to have a 'nothing can go wrong' type of an attitude, in order to shrug off goals during the game. The first PK went off his fingers but he shrugged it off and then made three great saves."
Pavliga dove left, right, and then right again to turn away Fremd's next three shootout attempts, while Tegge, Hamielic, and Mike West converted their attempts for Central.
"After I stopped the second one and we made the second one, I had full confidence," Pavliga said. "I was going to stick with my guess and I knew if I made a few more saves we'd win, even if we missed a shot or two. I just did everything I could to stop those shots.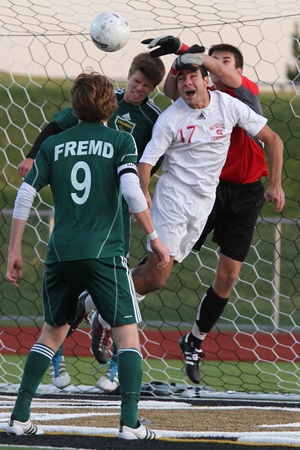 "This feels fantastic, one of the greatest feelings I've had in my life."
Fremd moves on to a third-place 3A match against Warren at 5 p.m. in Frankfort. Fremd won state titles in 1984 and 1997 and have placed second, third, and twice taken fourth in seven trips to the state finals.
"You never want to lose but we lost this game playing the way we wanted to play. It went four overtimes and it was a hell of a battle," Keller said. "Credit to (Central). They're an exceptional team, we wish them the best, and we're very proud of our kids."
Central will square off with Morton (23-3-1) with a state title on the line, at 7 p.m. Morton also won in a shootout in their semifinal against Warren, marking the first time in Illinois playoff history that both state semifinal games for one class went to shootouts.
Adams walked away from Friday's game happy that his side survived Fremd, which became the first team all season to score three goals on his Redhawks.
"My hat's off to them," Adams said. "That's as dangerous of a team as we've played. Normally we have a work rate that takes care of it but they matched, if not beat us. That's a credit to them. They played outstanding. Both teams got some breaks on some goals and we were nervous the whole time about what they could do.
"We'll look to hopefully clean it up tomorrow. It's like any single-elimination game where you're just playing to survive one more day. And if you can get to that last game, anything can happen. It will be an emotional (state title) game for whoever wins because none of the teams left have won a state title."