Sabres score five goals as they follow up on big victory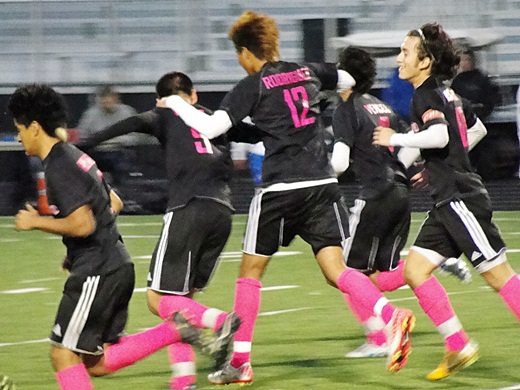 CLICK HERE FOR STREAMWOOD'S TEAM PAGE
By Curt Herron
Mario Rodriguez admitted that he and his Streamwood teammates wanted to wear pink for the second night in a row since they considered to be good luck.
And based on the fact that they've doubled their win total wearing those t-shirts and socks, the Sabres might want to remain in pink for a while longer.
One night after donning black shirts with pink names and numbers and pink socks in honor of breast cancer awareness, Streamwood went with the same look on Friday.
But more importantly for coach Matt Polovin's squad, they also turned in the same type of performance that they had during Thursday's big 3-1 victory at Lake Park.
Streamwood followed up on its win over the Lancers with a nice 5-2 nonconference win at Hoffman Estates in which it demonstrated some of its untapped potential.
For much of the season, the Sabres have done a good job of possessing and distributing the ball, but like many others have struggled to put the ball into the net.
During their first 13 matches, they suffered eight defeats by one goal plus had a draw as they got off to a disappointing 1-11-1 start to begin the campaign.
In seven of those contests they didn't score while in four others they managed just one goal and the consequences helped lead to a 10-match losing streak.
But that all appears to be a distant memory after the 4-12-1 Sabres have erupted for a dozen goals in their last four matches, helping them to three victories.
In each of those wins, the Sabres have managed to score at least three times with Friday's five-goal outburst against the Hawks a new-season high mark.
Rodriguez recorded a pair of scores while Ivan Vivero, Andrew Perez and Christian Rodriguez also had goals and Nestor Ascencio handed out three assists.
One constant for the Sabres has been the play in the net of Jose Resendiz, who once again came up big to halt some great scoring chances by the hosts.
"We're starting to score more goals, we're attacking a lot more and our movement around the field is unbelievable," Polovin said. "We possess the ball great and we have one-two touches all over the field.
"In the last few games we've created a lot more chances and now we're finishing on those chances. Earlier in the year we had some of those same chances but we just couldn't finish, that was our problem.
"There's no giving up with these guys and they play hard for all 80 minutes, no matter who I put out there. And that's what makes this so fun to watch."
While Polovin deservedly is enjoying his team's recent play, it's a safe bet that opposing coaches may not find much fun in facing the new-look Sabres.
One thing that the Sabres coach is proud of is the way that his team kept battling despite the frustration of dropping so many close matches early on.
"Obviously the guys were frustrated during the first half of the season with so many 1-0 and 2-1 games in which we pretty much dominated but couldn't put the ball into the back of the net," Polovin said.
"But this is a young team that just keeps working and working. Our training sesssikons have been wonderful to be a part of and now good things are starting to happen on the field and hopefully it continues.
"I'm also happy to have one of the top goalies around. Jose has been a rock back there and he's been our key all season long, keeping us in all of those close games.
"It's great to see the offense really getting involved. We're making diagonal and overlapping runs and scoring off our set pieces. Tonight was a good showing of how things are starting to click for us."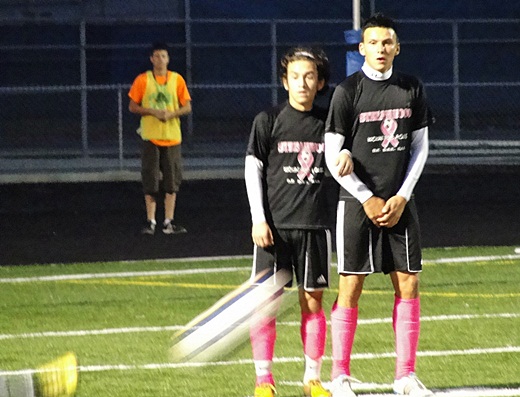 Hoffman Estates actually struck first in the match, scoring in the opening minutes to give its fans encouragement on a night when its seniors were honored.
But midway through the opening half the Sabres took that momentum away by scoring a pair of goals in an 84-second span to grab the lead for good.
Streamwood tied things up in the 18th minute when Vivero sent a pass to Mario Rodriguez, who connected from close-range for his first goal of the night.
A short time later, Vivero was on the receiving end of the first of Ascencio's three assists and he put in a long shot to give the Sabres a 2-1 lead.
Resendiz made his presence felt during the 28th minute when he halted a pair of good Hawks chances at close range to help the visitors stay in front.
Then a few minutes later, the Sabres took a 3-1 lead after Ascencio sent a free kick into the box and Perez knocked in a short try in the 32nd minute.
But Hoffman Estates got a goal back just 100 seconds later when Misael Vargas connected from close range following a corner kick from Jose Sanchez.
"Everyone wants it and we're all trying real hard now," Mario Rodriguez said. "At the beginning of the season we weren't trying as hard, probably because we didn't have chemistry but we've turned it around.
"In practice we play a lot of possession, that's almost all that we do. But after we weren't scoring at the beginnning of the season, we started practicing more on finishing and that's helped us a lot, too.
"We don't keep our heads down, we just go out and play our game the way we need to. We felt great after last night's game since they were a good team and we went there and dominated and scored three goals."
While things were still in doubt at the break with the Sabres only holding a 3-2 lead, a quick score set the tone for a dominating second-half effort.
After Ascencio was denied and Mario Rodriguez sent a shot wide in the early going, Streamwood finally connected again during the 48th minute.
That's when Ascencio sent a free kick into the box that Christian Rodriguez put away to give the Sabres their second two-goal advantage of the night.
Following wide attempts from Ascencio and Cristian Vences, Streamwood added one more score in the 71st minute to put the finishing touches on the win.
Alejandro Avalos set up the final score with a pass to Mario Rodriguez, who fired in a shot to highlight an exciting offensive showing by their team.
"Coach told us to keep things simple and that's really helped," Avalos said. "By keeping things simple we're getting some good results. We're taking more chances and we're putting them in.
"We switched our formation and I think that's helped a lot. We're also starting to connect better and moving around the ball quicker and that's what's giving us more opportunities to score.
"Last night's win was a really good one since they're a strong team. We lost a lot of close games early in the season even though we dominated and I hope yesterday was the turning point."
The Sabres hope to keep up their recent success when they host district rival Elgin on Tuesday and then travel to Schaumburg two days after that.