Sabres win on a special night at Lake Park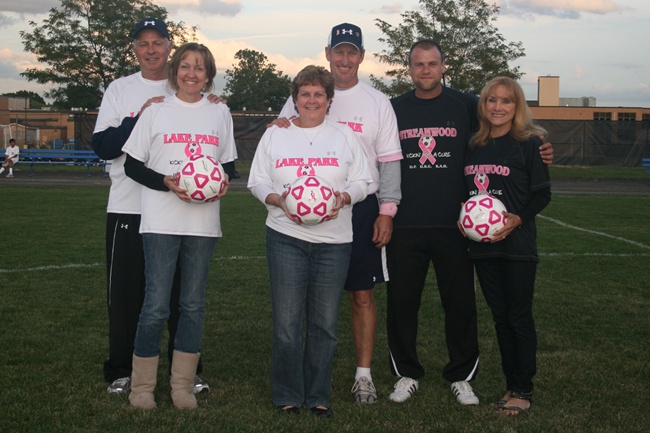 CLICK HERE FOR STREAMWOOD'S TEAM PAGE
By Gary Larsen
It's been 10 years for Donna Erfort, seven years for Debbie Polovin, and 14 months for Kathy Hillner – cancer-free, every one of them.
Real men wear pink without hesitation.
Lake Park and Streamwood joined together for their 2nd annual Breast Cancer Awareness game on Thursday, and played to a raucous crowd in Roselle.
Players wore uniforms lined in pink and Lake Park's dance team, the Lancettes, was there for a halftime show. T-shirts and bracelets were sold in the week leading up to Thursday's game. Wesley Czesak, father of injured Lake Park captain Tim Czesak, won the split-the-pot raffle at halftime, a nice $96 bonus for Mr. Czesak just for showing up at the game.
He promptly donated the money right back to the cause, the Susan G. Komen for the Cure foundation. By Lake Park coach Norm Hillner's estimation, the night raised roughly $1,500 for the Komen foundation.
"It's a wonderful thing and we've had a lot of money donated," Streamwood coach Matt Polovin said.
Kathy Hillner is the wife of the Lancers' long-time coach, and Donna Erfort is married to Lake Park assistant coach John Erfort, former long-time head coach of Buffalo Grove. Donna is a two-time cancer survivor, and survivor Debbie Polovin is Matt Polovin's mother.
Per statistics gleaned from the Komen for the Cure website, from 2003 to 2007, 123 of every 100,000 women in Illinois contracted invasive breast cancer. It's estimated that in 2011 there will be 230,480 new cases of invasive breast cancer in the U.S., and 39,520 breast cancer deaths.
"We were talking last year and Matt just kind of mentioned off-the-cuff that his mom had it, I told him about my wife, and I knew about John's wife as well," Hillner said of the genesis of the annual event.
Donna, Debbie, and Kathy were given the honor of presenting the game ball before Thursday's game began. And when it started, Streamwood's boys played with a little extra fire in their bellies.

"We wanted to win the game for Polovin, because of his mom," Sabres junior Mario Rodriguez said.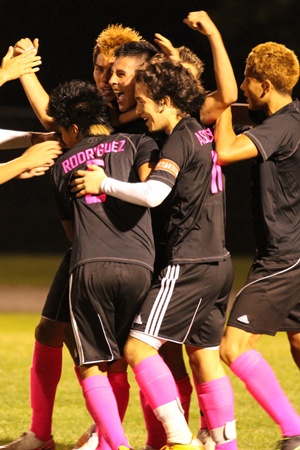 Win it they did, by a 3-1 score. Rodriguez had a goal and two assists on the night, while teammates Alejandro Avalos and Brandon Malpartida also netted goals in the win. Lake Park's Giovanni Ciaccio scored his side's lone goal of the night.
"We've been practicing finishing in our practices, finishing in the box, and that's what we did tonight," Rodriguez said. "Everyone wanted it tonight. Every single player. Everyone touched the ball and we played really hard."
Streamwood (3-13-1) also got a whale of a game out of goalkeeper Jose Resendiz, and his back line also battled well in holding the bigger and more physical Lancers to a single goal.
The Sabres have lost five 1-0 games this season, and their big goalkeeper has shined in maintaining low-scoring games as their attack has struggled to score.
"That's the soccer we've kind of been missing all season – playing confident with consistency, wanting to take the shot, and most of our shots were on goal," Polovin said. "Twenty seconds into the second half we got that goal and Jose – holy cow – he made some unbelievable saves tonight."
"It's a big boost," Resendiz said of Thursday's win. "We all wanted it. We've wanted it this year but not everyone has wanted it, the way we did tonight. This game could change things for us, for the rest of the year."
The Lancers (9-4-1), meanwhile, have hit a rough patch, losing consecutive games for the first time this season. "We're banged up," Hillner said. "We're waiting for someone to step up for us because we're just not the same team we were two weeks ago."
In addition to Czesak, "who we really miss," Hillner said, key defender Brian Fischer also sat out of Thursday's game due to injury.
One team up, another team down, and another high school soccer game in the books. Only this one took a back seat to a night of charity and good will in Roselle.
"It was nice to have all three women out here for the ball presentation before the game," Polovin said. "It almost brought a tear to my eye when they were announcing all the women and said my mom's name. But I thought it was awesome. The crowd, the atmosphere – everything."
If you'd like to donate to the Susan G. Komen for Cure foundation, CLICK HERE.