Mustangs fall to Lions in 2 OT in Pepsi Showdown semifinals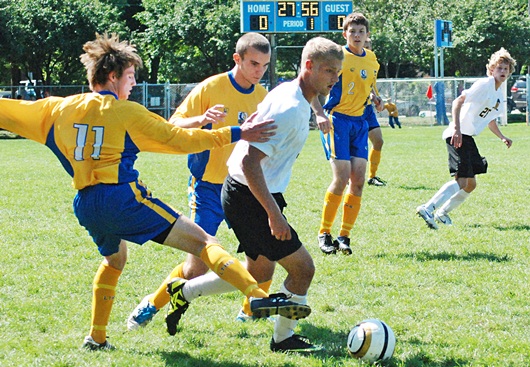 Photos courtesy of Barb English

CLICK HERE FOR METEA VALLEY'S TEAM PAGE
By Matt Le Cren
Elliot Borge is the only remaining starter from the Lyons Township team that lost to Neuqua Valley in the 2009 Pepsi Showdown championship match at Toyota Park.

The senior midfielder will get another crack at winning the largest regular season soccer tournament in the country on Sunday when the third-seeded Lions (5-2-2) take on top-seeded Libertyville (9-1) in the 2 p.m. final at Toyota Park.

Borge assisted on the first goal in Saturday's 2-1 double-overtime victory over No. 8 seed Metea Valley in the semifinals at LT's West field. The Lions will be making their third appearance in the title game.
"It's huge for us," Borge said. "Obviously, last year we didn't quite make it, lost to a good Morton team [in the semifinals], but [making the final] was one of our biggest goals at the beginning of the season and to be able to accomplish something like that this early in the season is a good stepping stone, I'd say, for us."

It wasn't easy. Metea (4-2-2) fought hard to hold off a Lyons squad playing before a large crowd on its home turf, with the defense and goalie Derek Carothers turning in an inspired effort.
Carothers, who replaced starter Gabe Gongora as usual at halftime, made seven saves, including four in extra time.
The best was a tremendous leaping effort to deflect a one-timer from Mark Pawula over the crossbar a little over two minutes before the shootout the teams appeared headed for.
"It was not necessarily the best save I've had," Carothers said. "It's just when the momentum is going you just have times where you make those saves. You're in the game.
"You're in the game, you have time and then you go up and you make sure you and the ball meet at the same time."

Pawula was stunned he didn't score on the play.

"After that shot I was really pissed off," Pawula said. "I just took my anger out and I decided to score on the next play."
He did. On the resulting corner kick, the first shot by Lyons was cleared off the line by Metea defender Evan Cudone.
Carothers rejected the rebound from point-blank range but could not stop Pawula's third-chance rocket from six yards out into the top netting that won the game with 1:54 remaining.

"I had a header hit off a defender, then Ben Larson [had a shot] deflected, it came right back to me and I just hit it," Pawula said of his first goal of the year.
"It's an amazing feeling. [I am] coming off a back injury, so I'm feeling good. I needed to score there."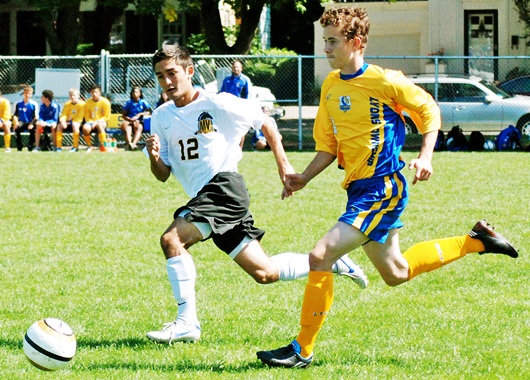 For Metea Valley coach Josh Robinson, the final play seemed like a bit of bad luck.
"When you get that twice you're just thinking it's going to pop out, but they finished it off so good for them," Robinson said. "They're a good team. It was an exciting game and hopefully everybody enjoyed themselves."
LT coach Paul Labbato did.
"We're picking up right where last year left off, down to the wire and things like that," Labbato said. "I'm really proud of them. They played a full complete game.

"Metea was great today, really dangerous, they possessed the ball well. We were dangerous also, we were happy about that. Obviously the home field advantage helps us a ton."
The Lions had the better of the play at the outset and grabbed a 1-0 lead at the 27:01 mark of the first half when Brett Heimerdinger tapped in a long-throw in from Borge.
But the pendulum swung both ways after that, with the Mustangs equalizing on a goal by Jake Goehring with 22:36 go to in the second half.
Goehring's goal, his second of the year, came when he ran onto a perfect through ball from Zach Bavol and finished from just outside of the left post.
"We played some really good soccer today," Robinson said. "It went both ways. They would have maybe 20 minutes of it, we'd have 20 minutes of it, they'd have 15, we'd have 15."
Ultimately, the team that had the greater number of chances prevailed.
"Their size is a huge asset to what they do," Robinson said. "You give up 12, 13 corners like we did, eventually their size is going to [prevail]. They scored off a throw-in, they scored off a corner."
For Pawula, a senior forward who recently returned to the lineup after missing four matches with his injury, it was a sense of urgency that propelled the Lions.
"We possessed really well the first half," Pawula noted. "It slowed down after that but then we just got back into the game and we had to win in OT. You win and or go home, so you've got to give it your all. Someone's got to step up."
That it was the Lions who did made Pawula jubilant.
"It's a great feeling," he said. "We were going to play in Toyota either way [there are two consolation games there on Sunday] but we wanted it to be in that final game. It's an amazing feeling to be there in the championship game and not watching it."
Borge knows first-hand how tough it is to get to the final.
"It shows a lot of character, I think, being able to go 100 minutes and just pull it out," Borge said. "We stayed with it the whole time."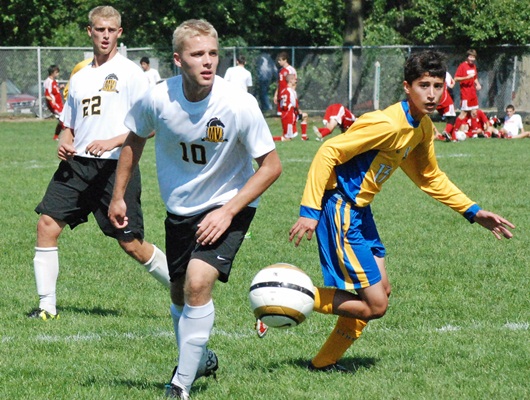 The Lions will look to Borge for leadership against Libertyville, which lost the 2010 Pepsi final to Morton in overtime.

"It's obviously a new experience for a lot of the guys," Borge said. "It might be a little nerve-wracking for certain guys, but if they trust the people who've been there before we'll be able to calm their nerves.
"It's nothing too much for any of us to handle. I think they'll all respond to it pretty well."

Metea will also play at Toyota Park, though not in the game it wanted. The Mustangs face Oak Park and River Forest (7-1-1) in a 10:30 a.m. consolation match.
"It's exciting to go play at Toyota Park," Robinson said. "Hopefully we respond well tomorrow. It's a great little experience for us.
"It was a goal to get to this final, not the goal, so we have a couple more weeks to work on things. We hope to be peaking then more than now. I'd rather be peaking in 2-3 weeks than now."

It speaks to how far the Mustangs have come in a short amount of time that they were disappointed in not making the final in just their second year of existence.
"We've set a high expectation for them," Robinson said. "I think they set a high expectation for themselves. I think we thought with this group of kids we would be successful right away and it's not going to be a four-, five- or six-year project.
"They're an extremely talented group of kids and it's up to them. The sky is the limit if they play to their potential and today I think we did. Things didn't bounce the way we wanted it to, but I think there's still a lot of room for improvement."