Redhawks record complete effort in win over Mustangs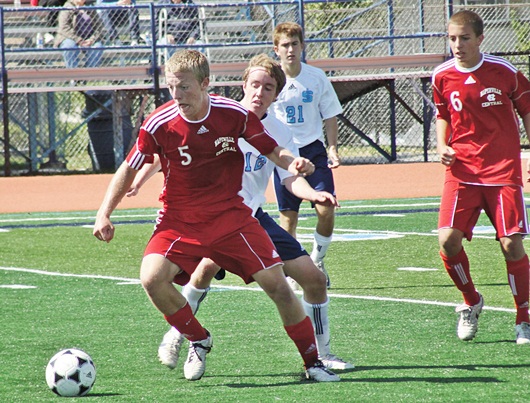 CLICK HERE FOR NAPERVILLE CENTRAL'S TEAM PAGE
By Darryl Mellema
Even for a team on a winning streak, which is the case for Naperville Central, some matches are better than others.
It was, to be fair, hard to find much to find fault with in the Redhawks 2-0 Saturday victory at Downers Grove South, Naperville Central's fifth straight victory and eighth in nine matches this season.
"We played well today," Central coach Troy Adams said. "There aren't many times a coach says that. But we played well today and our work rate was high.
"We've talked about trying to play smarter, to think ahead in the game instead of reacting to the game. I think that, today, we were really doing a good job of that."
Naperville Central has a roster filled with big, strong athletes.
On Saturday on the new artificial surface at Downers South, the Redhawks did something that will no doubt unnerve some future opponents – they passed the ball.
Frequently, five or six players touched the ball in buildups that had a purpose.
Couple that pass-and-move style with an aggressiveness that won nearly every ball in the air and most on the ground, and the Redhawks (8-1) were going to be tough to stop, no matter the opponent.
"Downers South is a good team and they worked hard," Adams said. "It was nice to see us come out and play hard because we had a great challenge today."
It still takes goals to win matches, and the one that ultimately separated the teams on the scoreboard was memorable, a 25-yard volley by Mike West that soared from the right channel just outside the penalty area into the left-side netting.
"You feel it through your whole body, not just your legs," West said. "You see it going in and you pretty much blank out and the next thing, it's going in."
West had earlier hit the crossbar at the midpoint of the half from similar distance, but his goal with 13:59 left in the first half stood up as the game-winner.
"We were talking in practice that we don't get many goals from the play in the field," West said. "We score most of our goals from dead balls, so we've been working on that a lot. It was open and I took it."
In addition to the goal, West was a strong presence in the Redhawks midfield off the bench against the Mustangs (4-5-2).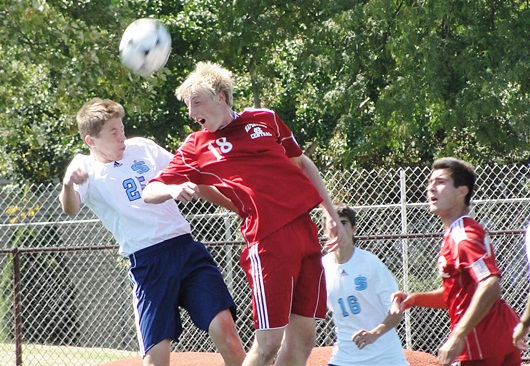 "(West) did a phenomenal job today and he's done a phenomenal job all year," Adams said. "The thing that was nice to see today was that when substitutions were made, the level of play did not drop.
"That's a key to a team winning because few players play 80 minutes. (West) could start in the central mid role, but we have a lot of talented players right now. He did a great job of linking with his teammates and keeping things simple."
The Redhawks scored an important second goal in the 17th minute of the second half when Adam Hamielec sent a leading pass that Rahul Bhatia touched to Pat Flynn, who fought off defenders in order to shoot and score.
"As a whole today, we did a good job of connecting passes," Adams said. "The last 10 minutes turned into a frenzy. But before that, we linked three, four, five passes together and that helps pull the defense out of shape."
Flynn's goal stood large when Downers South nearly got on the scoreboard with eight minutes to play, though Andrew Grabavoy's shot only rattled the crossbar.
Central had recorded five shutouts this year, but Saturday's was one in which the defense did the main job of keeping shots from troubling Mike Pavliga in the Redhawks goal.
Among those largely responsible for blunting what Downers South attacks reached the penalty area was Sean Stevens.
"All the balls in the air, we were winning," Stevens said. "The 50-50s, they couldn't get. We kept possession. We wanted to come out hard and score one in the first half."
Downers South coach Jon Stapleton was stoically succinct in his four-word initial assessment of the match – though he certainly elaborated.
"They're a better team," Stapleton said. "We have a young group and that's something that we are aspiring to. They had a group last year that was young and they've matured.
"Hopefully we can learn from this experience because I think we probably defended for something like 77 minutes of the match."
Stapleton said his team continues to work to improve, and in players like senior midfielder Cory Mosiman, the Mustangs have a player who is unwilling to give up anything to any opponent.
He never stopped working to try to create a goal on Saturday.
"(Mosiman) gives you everything he's got," Stapleton said. "He got hurt today and he came back on. He's been sick this week and he came back strong for us. He is a resilient young man and he works so hard. I don't fault any of our efforts, but (Mosiman) is one who played hard today.
"Another one is Joe Sombeck in the back and a third is Gabe Diaz in midfield. Those are three seniors that are trying to lead a young team and see success in their senior year. That's a hard thing and I couldn't ask for three better guys to do it."
The Mustangs coach said Naperville Central's aggressiveness was difficult to handle.
"They're tremendous in the air," Stapleton said. "I said at halftime that if we hadn't valued winning balls in the air before, hopefully they do now because Naperville Central does it so well."