Griffins use two early goals to defeat Celtics for regional title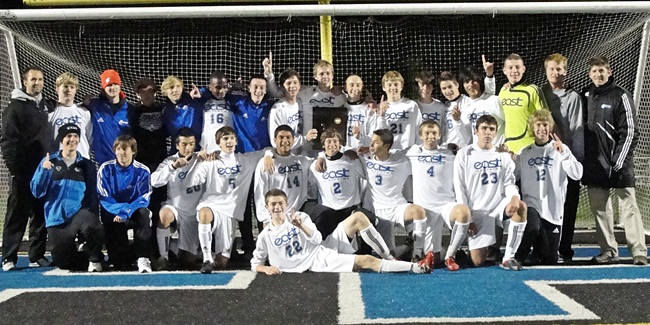 CLICK HERE FOR GRIFFINS' TEAM PAGE
By Curt Herron
Although hall of famer Brian Papa insisted that this year's Lincoln-Way East team would be a good one, for much of the season it wasn't apparent.
By the end of September, the Griffins were only 4-7-4 and in a stunning development, Papa was ousted as the team's coach amidst much controversy.
It would have been quite understandable for East to fall completely apart at that point, but it's clear that members of the team had other ideas.
So instead of tossing in the towel, the Griffins set their sights on seeing how they could do in the playoffs, beginning with their own regional.
After surviving a double-overtime thriller against Thornton Township on Wednesday, East met upstart Providence Catholic in Friday's title match.
The 17th-seeded Celtics pulled off the state's biggest upset when they knocked off top-seeded Carl Sandburg in the other semifinal on Tuesday.
Knowing that Providence would be quite happy to add to its postseason surprises, interim coach Ryan Decker hoped for a good start for his squad.
And that's just what unfolded as John Ulrich and Anthony Cetera each found the net within the initial six minutes of play against the Celtics.
Although Providence got a goal back shortly before the break, East claimed a 2-1 win in Frankfort to claim its first regional title since 2006.
As a result, the Griffins (8-10-5) advanced to Tuesday's 4:30 p.m. Andrew Sectional semifinals against the Homewood-Flossmoor Regional champion.
Eisenhower battles the host team in today's H-F Regional finals. East tied the Cardinals 0-0 and defeated the Vikings 2-0 earlier this season.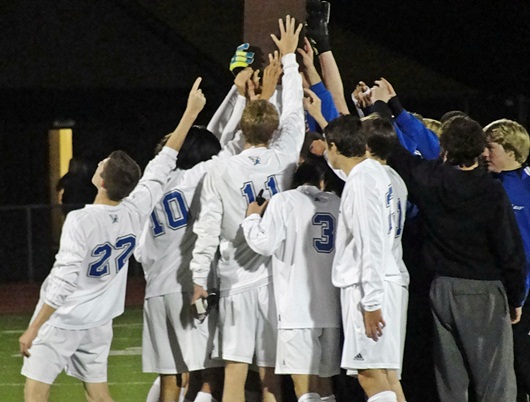 "The goal for the week was to get to this game and to leave it on the field and they did that tonight, so I couldn't be more pleased," Decker said. "I think the boys are starting to believe that we can win games now.
"At the point of the season, teams like Providence are the most dangerous since they have nothing to lose. Everyone thought they were done in their last game and clearly they were far from being done.
"My hat goes off to them for their work rate and their effort. They gave it to us and they made us fight for it. Clearly we came out prepared to get those two early goals but that 2-0 lead is the most dangerous.
"We sat on it a little too long and we allowed them to create some flow and they finished a chance and suddenly they had life again. We need to do a better job at finishing teams in the run of play and scoring goals."
Decker, who was Papa's longtime assistant with the program, knows all too well about the distractions that this year's squad has dealt with.
"This team has seen so much adversity that we figure that we're battle-hardened at this point because of what we've had to endure during the regular season," Decker said.
"We think we're mentally strong, we're finally getting physically healthy and we're starting to believe that we can do something. So we feel good going into Tuesday's game."
The Griffin coach is pleased to see his squad becoming more dangerous offensively as it heads into the next round of the playoffs.
"We have a solid attack coming from Anthony and Will Will," Decker said. "But the big surprise is when we moved John from the left back to the left flank position. He is changing games by himself just by finishing.
"Now that Logan Murphy is finally back, that left side is locked down and we feel very confident in what we can do attacking and defensively on that side.
"I also have to take my hat off to guys like Ernie Martinez, Tyler Anderson and Josh Lavin. They did not play in the center of the field at the beginning of the season but now they're logging big minutes as holding mids.
"Also, I can't say enough about Jim Ralph in the back. He's our center back and I told him at the beginning of the season that he'd be our quarterback and he keeps the backline organized all of the time."
The Griffins moved in front of the Celtics (4-17-3) for good during the third minute when Martinez sent a pass to Ulrich, who connected.
"We've been training hard the whole season and even though we hit a couple of bumps in the road, we worked through it since that's the character of this group," Ulrich said. "We're like a big family.
"We sent Providence home last year in the regional semifinal game, so we knew that it would be a tough game and we didn't let up and got the win. And it was a great feeling to get off to the 2-0 lead.
"We relaxed a bit and gave up the one goal, but thank the Lord, we still had enough. Both teams were fighting since it was the end of their seasons. This was the seniors' last time playing on this field so we weren't going to give it up.
"Coach Papa put the confidence into us since last year. He told us that this team was good and we should know that and now we've won the regional. It feels good to leave my home field for the past four years with a win."
In the sixth minute, Will teamed up with Cetera to give the Griffins a 2-0 advantage and to cause a few concerns for Celtics coach Dan Potempa.
"Coming off a big win like we did on Tuesday, it's tough to match that intensity in your next game so we came out a little flat," Potempa said.
"East really pressured us right off the bat and were coming at us and we had to withstand that and then they scored the two quick goals before we were able to regroup.
"If you toss away those first six minutes of the game, it's completely different. But we still had a shot at the end and I'm most proud of my boys since we didn't give up.
The Celtics closed to within 2-1 in the 32nd minute when Ben Salvador found the net and the visitors kept the pressure on the rest of the way.
"Nobody expected us to be in this game," Potempa said. "But it's been the hard work that the boys have put in, especially during the last three or four weeks. They really put it together.
"Ben has been incredible holding the ball up top, we got Max Picard back an injury and with both of those guys next year, I'm looking forward to seeing what they can do.
"We moved Pat Zeniecki up from a defender to a midfielder and he brought a lot of energy there. And our goalie, Brian McNamee, also played well, even though he's a little down on himself today."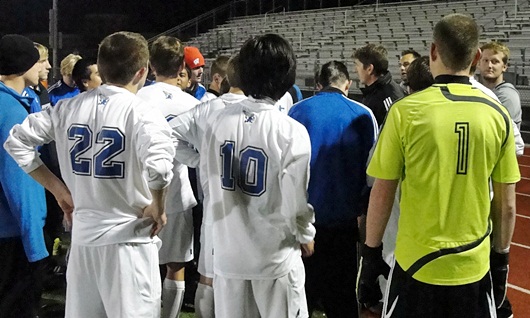 East had chances to add to its lead, with Cetera's free kick that led to Ulrich heading a try off the crossbar in the 70th minute a good example.
But mainly, it was up to Griffin keeper Rick Torres and the backline, led by Jim Ralph, to maintain the lead so that the hosts could move along.
"On my gosh, it was really a group effort since everyone gave their heart," Ralph said. "The forwards played their butts off, the midfielders knew exactly what they had to do and the defense also had an amazing game.
"Providence was the underdogs today, but we still knew that we had to come out strong, and that's what we did. Within six minutes we had two goals. Coach Decker tells us we have to put a team away in the first 10 minutes and we did.
"As soon as Anthony scored and we went ahead 2-0, I gave him a giant hug. After that we knew that we become one unit and that's what we did. We're 2-0 in the playoffs and now we want to go 3-0.
"We've really come together as a team and now we're just a giant family and I love it."
Beside being one of the 10 seniors on the Griffin roster, the regional title took on extra special meaning for Torres.
His brother Mike was the starting keeper on East's last previous trip to the sectional, which happened five year ago.
"This is something that we've been looking forward to the entire season," Torres said. "Coach always told us that we had the potential and today we just came out and played the way that we can.
"Feeling the same atmosphere as my brother did and being able to follow in his footsteps was great. I love these guys with all my heart. We got over what happened this year and just went back to work.
"We didn't know what to expect after seeing them beat the number-one seed so we just had to charge through it. Getting those two goals early gave us confidence and helped me to be more aggressive.
"We just have to keep playing like we did tonight. As long as we do that, we'll accomplish as much as we want to. When I see how hard every one has been working, it motivates me to play even better."