Hillner's stay at Lake Park coming to a close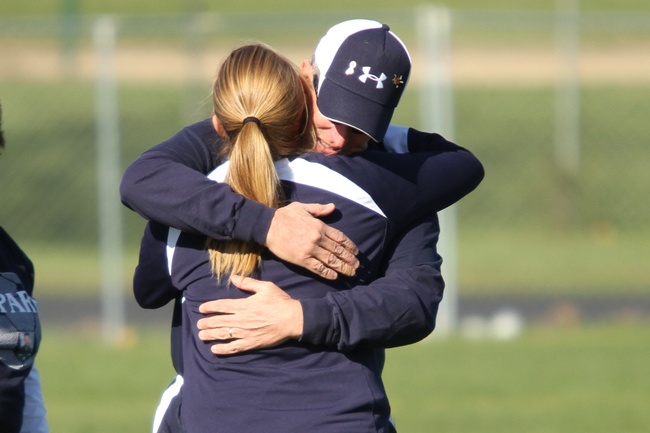 CLICK HERE FOR TESTIMONIALS FROM ILLINOIS' SOCCER COACHES
CLICK HERE FOR LAKE PARK'S TEAM PAGE
By Gary Larsen
The numbers don't lie but in the end, some tell the story better than others.
Since 1981, and through Saturday's 1-0 win over Barrington, Norm Hillner has coached 650 soccer games for Lake Park, amassing a 367-210-73 record in a hall-of-fame career.
But on Saturday in Roselle, in the final home game of Hillner's coaching career, one number quantified his importance to Lake Park better than any other.
That number was 74, which was the number of former players who responded to confirm that they'd be there to honor Hillner and play in Lake Park's annual alumni game, as the light goes out on their old coach's career.
With almost 80 former players present but obviously only 22 at a time able to take the field, the logistics of this year's alumni game posed a bit of a problem.
"I don't want parents emailing that their kids didn't get enough playing time in an alumni game," Hillner joked.
Anyone who knows him can tell you that Norm Hillner is a mix of competitive fire and humor, usually at the same time. They'll also tell you that his willingness to devote his time and energy to his players and to Illinois high school soccer is second to none.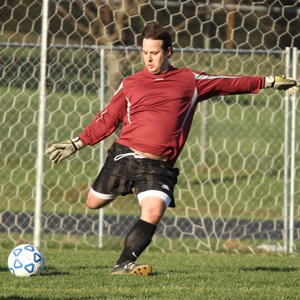 "There was absolutely nothing he wouldn't do for his players," said Brian Lehky, a high school all-American for Lake Park in 1994. "This was a guy who would cut the grass on the field if the groundskeeper couldn't get to it. He'd wash jerseys if that's what needed to be done. No task was beneath him because his players came first."
"I'm not convinced that anyone will ever understand the countless hours he has put in on behalf of all the student athletes who have ever played high school soccer in Illinois," Hinsdale Central coach Mike Wiggins said.
Hall-of-fame member and former Buffalo Grove coach John Erfort might have summed Hillner up best. "There are a lot of people who talk about doing things," Erfort said. "But Norm actually does them. He has always had such great energy for the sport."
The hall of fame to which both Hillner and Erfort belong is the most prestigious place you can be named to by the Illinois High School Soccer Coaches Association. Erfort was voted in by the coaches in 2002, Hillner in 2007.
As an officer of the IHSSCA in various capacities, Hillner has been a selfless and indispensable force on behalf of the high school game.
"Not only is Lake Park losing a great coach and person, but Illinois high school soccer is losing a person who has supported high school soccer for thirty years," current IHSSCA president and Neuqua Valley coach Joe Moreau said. "During Norm's service to the IHSSCA, his role never wavered – it was always to oversee and maintain the mission statement of the IHSSCA which is to perpetuate and improve the sport of soccer at the high school level in all aspects."

Standing in the northeast corner of Lake Park's soccer field on Saturday, with roughly 80 former players crowding the field as they warmed up for Saturday's alumni game, Hillner sheepishly tried to deflect the spotlight that the day shined on him.
"I'd like it to be about all the players that have played here," he said. "We've never had this many former players here for an alumni game."
They showed up because the best measure of a coach isn't the wins and losses he piles up; it's the impact he's had on his players.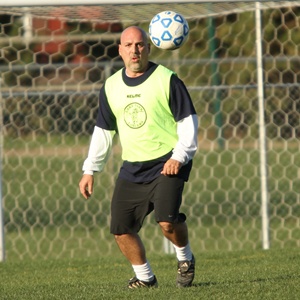 "What I remember most," class of 1981 graduate Eric Scarmardo said, "was how coach consistently reminded us that win or lose, what mattered most was that we gave our absolute best, all of the time. I'm glad to say that I was there at the start."
Anne Greco also played for Hillner in 1982, as one of three girls that played for the Lancers' boys' team before girls' soccer came to Lake Park.
"He nursed my interest and passion in the game, and helped me find my way," Greco said. "I'm still involved in the sport as a coach myself and it all goes back to Lake Park, and Norm Hillner."
You'd be hard-pressed to find a coach in any sport with a bigger competitive fire in his belly than Hillner. He used it to great effect, first as a team captain and MVP for Maine West in 1975, and then as a player at Knox College in Galesburg. Hillner was a team captain, a four-year all-Midwest Conference player, a three-year all-Illinois player, and still holds the career scoring record at Knox.
His background as a team captain wherever he played didn't happen by accident. 2002 Lake Park grad Blake Hughes admits that he might have been too young and naïve to fully appreciate the high expectations that have fueled Hillner's coaching throughout his career.
"Sometimes playing under Norm was trying on your patience and sometimes it was belly-hurting hilarious," Hughes said. "But there is no doubt that his intentions were to keep the player's mind right and to develop character while doing it. There was never a time where you really wanted to go against his word because there's no doubt you'd be held accountable."
The more people you talk to about Hillner, the more his chief qualities get winnowed down to three main traits: his competitive fire, his high expectations, and the energy and effort he has exhibited as one of the caretakers of Illinois high school soccer.
"Norm has always been one of a kind. Any of his players, assistant coaches and close friends realize that his loyalty and pride are his best attributes," Downers Grove South girls' coach and IHSSCA hall-of-famer Barry Jacobson said. "His passion for the high school athlete is unmatched, and I'm afraid that his fiery, competitive spirit is something that might be missing from many young coaches of today."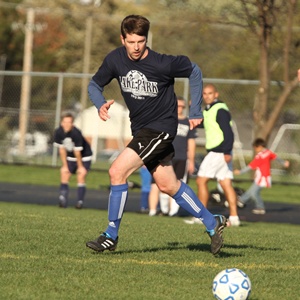 Through the years, whenever Hillner's teams have been undermanned talent-wise, it was that competitiveness that he tried to impart on his players.

"Those are the three parts of his DNA," Lehky said. "A no-lose attitude, giving a hundred percent no matter what, and high expectations. And he always led by example."
Hillner's coaching hasn't been lost on his peers, either. As a young coach two decades ago, Wheaton Warrenville South coach Guy Callipari received the only red card of his coaching career, in a sectional game against Hillner's Lancers.

"We were down 0-2 and playing without any spirit or passion, which is something Norm and his teams are never short on," Callipari said. "Let's put it this way: I over-inspired and paid the price. I really needed to pay more attention in watching Norm and his ability to manage his team, the game, and its officials."
Metea Valley coach Josh Robinson has a unique perspective on Hillner. "I have been fortunate to go against Norm as a player when I was at St. Charles and also as a coach at Metea," Robinson said. "He always got the most out of his players and his team."
Saturday marked Hillner's final game coaching at Lake Park's Krupke Field, and his Lancers won 1-0 over Barrington on a goal scored with only 14 seconds left in the game. A raucous home crowd that included Hillner's family, his former players, and parents of this year's seniors on Senior Day went predictably wild, that fate smiled on him on his way out the door.
"That goal, when it went in, the first thought in my head was 'all right, Norm'. It's fitting for him to get a win in his last game on this field," Barrington coach Scott Steib said. "People have no idea how much time he has spent serving our sport and he should be commended for his efforts. He is a wonderful man with a fantastic sense of humor, a competitive fire, and genuine concern for his players and his colleagues. I'll miss coaching against him and working with him."
Even though there are a pair of supersectional losses from Lake Park's past that still gnaw at him, while looking out at a mob of alumni players warming up on Krupke Field for the last time on Saturday, an old coach who doesn't gravitate to softer public moments softened enough to concede this:
"This day is right up there with the best memories I've had here," Hillner said.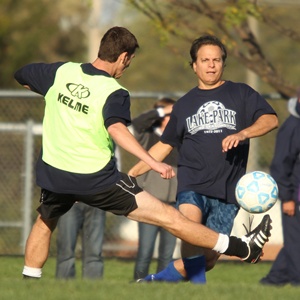 Illinois high school soccer is losing a stable of its best coaches this year. Marmion's Kevin O'Connor and Naperville North's Jim Konrad are stepping down, and Lincoln-Way East hall-of-fame coach Brian Papa's future is currently up in the air.
And from one long-time coach to another, O'Connor summarizes Hillner's value to Illinois soccer as well as it can be done:
"There are many high school soccer coaches that truly mentor the players within their respective programs. There is a fewer number that provide that same mentorship with fellow coaches. Norm Hillner is certainly one of those special coaches that does both. Simply stated, Norm is an ambassador of the game and for those of us that have had the opportunity to learn from him and share the friendship that comes from being in the soccer coaching fraternity, we are all better off. Norm is one of the real giants in our profession. His work with the players at LakePark, his countless hours of involvement in the IHSSCA, his hosting of clinics that featured some of the top collegiate coaches, provided many of us with opportunities to continue to grow in our soccer coaching pursuits.

"Norm's Lancer teams always embodied his ultra-competitive personality. His teams have always been an extension of "Norm the coach, the teacher, and the mentor". As Norm gets ready to journey down the retirement road, there will certainly be a void left behind that will not be easy to fill.

"Thanks for a great run my friend."