Spartans upend top-seeded Wheaton Academy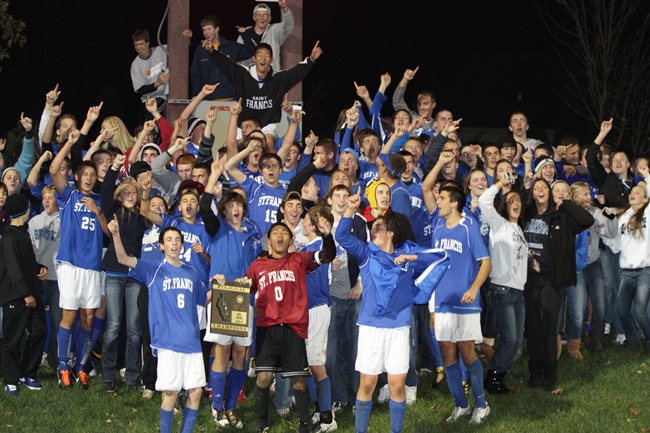 CLICK HERE FOR ST. FRANCIS' TEAM PAGE
ST. FRANCIS-WHEATON ACADEMY PHOTOS
By Gary Larsen
Speed, size, and foot skills can all be measured one way or another, but there has never been a barometer for guts.
"Hats off to St. Francis," Wheaton Academy coach Jeff Brooke said. "They came in, played hard, and put the ball in the net. They took care of mistakes, which is what you have to do in this type of game, and they did it. So well done by them."
Something nearly unthinkable happened on Saturday night, only somebody forgot to tell the players at St. Francis that they couldn't beat perennial state power and local rival Wheaton Academy.
The No. 9 seed of the Riverside-Brookfield sectional upset the No. 1 seed, proving what St. Francis senior Patrick Holman said a week before the postseason even began.
"Like I told you before," Holman said. "Anything can happen in the playoffs."
With one magic strike off the foot of the Spartans' Mitch McShane, St. Francis (12-9-4) beat Wheaton Academy (14-7-3) and won a Class 2A regional title. McShane's goal with two minutes left in regulation gave the Spartans a 4-3 edge that held to the final buzzer.
A mighty wave of blue and white battered the field when it was over, as the Spartans were swallowed up by a massive student fan base that hooted and hollered from opening whistle to final buzzer.
Is there any delirium quite like the delirium you see in high school sports when the underdog upsets their local rival with a postseason title on the line? "This was incredible," Spartans senior Perry Poulos said. "The fan support really motivated us to take care of business today."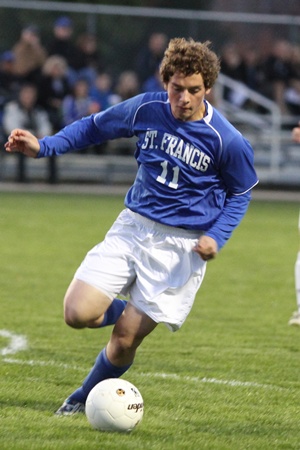 After he took a feed from Remmy Mifsud, took a touch to his right, and buried the game-winner to the upper ninety from 20 yards out at the far post, McShane humbly tip-toed away from the spotlight.
"One of the luckiest moments of my life," McShane said. "I barely have any goals to my name so that's the one I'm going to remember, but it was all my team. I barely played the first half of the season and these guys have worked so hard all year. This is much more about the team than about anything I did tonight."
As the Spartans and their fans set up camp on the south end of the Warriors' home field -- chanting and hugging, then hugging and chanting some more -- Wheaton Academy's players stood, sat down, and lay on the field in shock and discouragement.
Brooke's boys showed the character and fight the Warriors' program has always been known for, fighting back from a 3-1 deficit to tie the game in the second half before McShane's game-winner.
"They showed some fight and we're proud of them," Brooke said. "You hate giving up one after you spent so much energy coming back but (McShane) hit a bomb so props to him on that."
Senior Josh Urban gave Wheaton Academy a 1-0 lead at 14 minutes, when he took a touch to his right along the top of the Spartans' penalty area and unleashed a menacing shot that stretched the back netting.
Wheaton Academy has established a pattern of dominance over St. Francis in the last decade. An opening goal by the Warriors has more often than not led to another Academy goal, and then another…

"And then the score gets run up," Keigley said. "But these guys really wanted it. We were the underdog so there was less pressure on us to win. I think maybe we've been underestimated, and we really wanted it."
Instead of hanging their heads, the Spartans rose to the challenge. They kept fighting in the face of the Warriors' attack and searched for ways to work the ball into their attacking third.
The Spartans earned a trio of corner kicks and McShane and teammate Matt Bonner each sent in a shot on net in the ensuing minutes after Urban's goal. The Warriors' Marshall West answered with a shot wide, and then a shot off the crossbar at 31 minutes.
Warriors' keeper Jesse Carmody leapt and snared a Mifsud free kick at 33 minutes, and four minutes later Poulos lined up a free kick that would change the course of the game.
From 40 yards out on the left side, Poulos sent a ball towards the far post that no one in the crowd gathered there got a touch on. The ball bounced once near the post at the goal line and tied the game at 37 minutes.
"I had to spark us," Poulos said. "I had to get it far post, I got the bounce, and it went in. It just went right in. It was a beautiful thing."
"We knew we could play with them," Mifsud said. "That early (Urban) goal hurt but then when Perry hit that ball in the right spot, the crowd got behind us."
And the Spartans weren't done.
With time ticking down to halftime, Mifsud took a ball up the left touchline on the Warriors' end and served to the goalmouth, where Brett Jungles beat a defender to the ball six yards out and put it past Carmody.
The Spartans' David Kaminky destroyed a pair of dangerous plays just outside the penalty area early in the second half. After a corner kick by the Warriors' Gareth Flynn went for naught at 46 minutes, Mifsud created something from nothing to make it 3-1.
After a Holman throw-in reached the left corner on the Warriors' end, Mifsud swiped it from a defender, romped up the end line, cut back to his right and let fly on the run, 12 yards off the near post.
"I saw the goalie creeping and I just thought, 'why not? I'm never going to get this chance again in this game'," Mifsud said. "Those chances are hard to come by."
When Mifsud's shot tore under the crossbar, St. Francis had a 3-1 lead but Wheaton Academy had 32 minutes left to do something about it.
The Warriors sent the cavalry forward from there. Flynn sent in a wickedly-hit cross that Suerte cut off at 50 minutes, and the Warriors' Mark Rougas fought his way up the touchline on the left side to earn a free kick that Flynn sent off the far post at 53 minutes.
Brooke sent Urban from the back line into the attack, and the senior sent a head shot high at 55 minutes. Suerte made an acrobatic save on a West head shot at the post at 56 minutes, saved an Urban shot from distance at 58 minutes, and then saved another West header at the 60-minute mark.
The Warriors had the Spartans in the pressure cooker, and they weren't going away.
The two-goal lead held to the 69th minute. Urban blistered a left-footed shot inside the post on the right side from 20 yards out to make it a one-goal game. The Warriors tied the game when Bryan Cairncross ran onto a ball sent over the top by Flynn and poked it past a charging Suerte.
A game that seemed destined for overtime had less than 10 minutes remaining in regulation, but Mifsud and McShane connected for the game-winner with just less than two minutes left.
"I was the farthest one back and when I saw it in the air I thought 'it's going far post! It's going in!' I could see it from a mile away. It was beautiful," Poulos said.
McShane just tried to stay calm and do what soccer players practice over and over again.
"The keeper was kind of near post but I just thought 'okay, let's do one of those shots you kind of do at practice, right in the corner'," McShane said. "But I didn't expect it to go in. I was just hoping to get it somewhere to the far post. That was, like, the most solid foot I ever got on a ball."
Brooke saw his side go down fighting, but the game's plot was too familiar.
"It's interesting because the thing that defined us all year, and the thing we chased to try to get rid of, was the thing that closed out our year: the big mistake," Brooke said. "They took advantage of our mistakes tonight and any time you give up four goals in a game, you probably deserve to be done."
The last time the Spartans boys' team beat the Warriors was back in 2005 under IHSSCA hall of fame coach Tim Dailey, who started the Spartans' program back in 1999.
"It's unexplainable," Mifsud said. "It's my first year of playoffs so maybe it doesn't mean as much to me as it does to the seniors, but it's still unimaginable."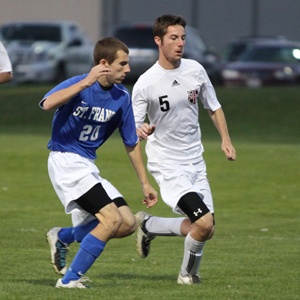 The win sent St. Francis to a sectional semifinal match against (Chicago) Payton on Tuesday at Riverside-Brookfield. The winner takes on the winner between No. 2 St. Joseph and No. 3 Riverside-Brookfield.
The Warriors will say goodbye to seven rostered seniors in Urban, Cairncross, Carmody, Rougas, Frank Della Torre, Brian McLean, and Colton Seager.
"This senior group is one that has changed the most as people since they came in as freshmen, to who they are now as seniors," Brooke said. "Their growth has been something to see. Some of them are going into full-time ministry, they want to work in the city, they want to help people. If you would have known them when they came in as freshmen – they had the punk feel, the thug look – and now they're guiding our school in some pretty cool things.
"It's fun to see that. I'll know them for a long time and they kind of grabbed me this year in a way that I didn't think they would. I'm really proud of them. It's hard to see seniors go every year and it will be particularly hard with this group.
"I'm proud of all of these guys. They've worked hard after losing a lot of talent from last year. They bought into what we're doing and that's why it hurts. That's why it's painful."