Mustangs score late to claim big win over Bulldogs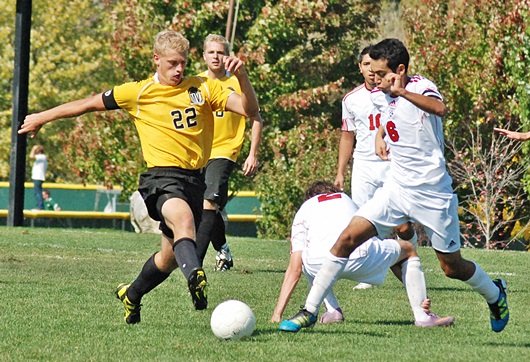 Photos courtesy of Barb English

CLICK TO SEE MATCH PHOTO GALLERY
CLICK HERE FOR METEA VALLEY'S TEAM PAGE
By Curt Herron
After starting off its season with a 4-0-2 record, Metea Valley has certainly struggled during recent weeks.
The Mustangs went 1-6-3 in their last 10 matches prior to facing Batavia in Saturday's Waubonsie Valley Invite.
Scoring goals proved to be a major problem for coach Josh Robinson's squad during that recent rough stretch.
Metea had only collected 11 goals during those 10 matches, with all but one outing featuring one or no scores.
But it was a different story for the Mustangs on Saturday, and much of the credit for that goes to Ryan Solomon.
The Mustang senior forward accounted for all three of his team's goals as Metea edged Batavia 3-2 in Aurora.
Solomon put in a short attempt in the 77th minute after receiving a pass from senior teammate Kevin Decker.
The Bulldogs (13-3-2) connected in the early going and then evened things up at 2-2 shortly before halftime.
But Metea (6-6-5) responded to that by keeping Batavia off of the scoreboard during the final 40 minutes.
Meanwhile, the third time proved to be the charm for Solomon, who collected his first hat trick of the year.
It was just the second Mustang victory since they defeated Deerfield in the Pepsi Showdown on September 10.
For Batavia, it was their second 3-2 defeat of the week, with the other coming to tourney champ Waubonsie.
The Bulldogs had a chance to win the title on Saturday, but needed to beat Metea with a decisive shutout.
After it became clear that such an outcome wouldn't happen, Batavia merely looked to walk away with a win.
However, Solomon and the Mustangs had other ideas and now they hope to build on this win for the postseason.
Batavia coach Mark Gianfrancesco pointed to Solomon as the key difference between his Bulldogs and Metea.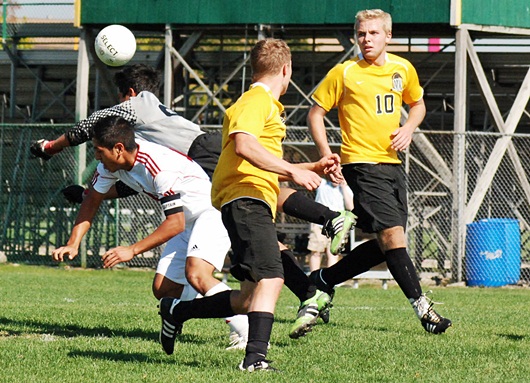 "We didn't take care of our opportunities, their goalies did a nice job of coming off their line and they played tough defense," Gianfrancesco said. "But let's be honest, #22 (Solomon) was the guy who beat us.
"He scored their only goals and was dangerous all day and we didn't do a very good job on him, especially in the last five minutes. He was the one we picked out before the game and we lost him three times.
"Are we going to see some more good players like him in the playoffs? Absolutely, so we have to ratchet that down. The big wins are nice, but tough matches that come down to the wire like this benefit you.
"We moved the ball pretty well today and were composed but they were dropping a lot of guys into the box. We took advantage of a couple of transitions but just couldn't get it past those guys when it counted."
While flattered to hear that the Bulldogs credited him as the difference, Solomon saw things differently.
He handed out credit to teammates all over the field and viewed himself as the beneficiary of those efforts.
"Our midfield was on fire and was winning balls right and left and playing balls deep for me," Solomon said. "There's no way it was just me out there. I was falling down on one shot and just got lucky.
"My teammates played hard, especially our defense since Batavia's offense is loaded. It was nerve-racking after we let up the first score knowing that a team like Batavia can score plenty of goals.
"Obviously we weren't too happy going into halftime after giving up a late goal. Our defense knew that they let up at the end of the half and really came out strong in the second half and held them off.
"After beating the second-seed in the sectional, we've wiped the slate clean. We know that we can play with some of the best teams around and we're looking forward to showing it in the state tournament."
The Mustangs close out the regular season with road trips to East Aurora and Plainfield North this week.
Then they'll play in their own regional, which includes top-ranked Naperville North and also Oswego East.
Metea has good reason to be optimistic after defeating a team ranked among the state's best all season.
However, the eventual outcome was far from certain throughout most of the final 40 minutes of play.
Batavia backup keeper Michael Rueffer got injured not long after the break, bring Ben Steskal back out.
He stopped a free kick from Zach Bavol a shortly after reentering but his counterpart faced more threats.
Metea backup Gabe Gongora halted tries by John Barnes, Cody Witkowski and Erick Ontiveros in short order.
After Solomon and Bulldog Aaron McNamara traded liners, Batavia's Cody Balogh was just wide of the mark.
That set the table for the final minutes, which were capped off when Decker found Solomon, who connected.
"We've been struggling in the last couple of weeks to finish and to also put teams away," Decker said. "So it was nice to battle through it today and to be able to get that goal at the very end.
"We need to be more focused at the beginning of games and come out harder so we don't give up bad goals like this one today. We also need to put on pressure so that we can get more goals early.
"Batavia has a good offensive attack with some really good center midfielders who pass well, so it was nice to beat them. It's nice to get out of a slump and I hope we peak right before playoffs."
In the opening half, Mustang keeper Derek Carothers came out of the net to deny Witkowski on his first try.
But just a short time after that, Witkowski sent a pass to Lalo Cuautle, who scored in the sixth minute.
Carothers stopped a short shot by McNamara and punched away a Cuautle corner kick not long after the goal.
Solomon struck for the initial time when he fired in a line drive in the 14th minute to even up the score.
Then in the 17th minute, Decker found Solomon for the first time, resulting in a goal in the upper corner.
Shortly after the midway mark of the first half, Bulldog Cam Callipari cleared away a threatening attempt.
Then Witkowski sent a pass to Anthony Torres, whose close-range shot was deflected by the Mustang keeper.
Cuautle later had a long free kick turned away and Carothers also deflected a shot attempt by Witkowski.
But there was little that he could do when Witkowski got a short shot in the 40th minute that tied things.
"That was a good goal by them," Robinson said. "But throughout the year we've given up so many goals in the last minutes of halves. We relaxed and think that we're out of it.
"We've been in every game and we battle in every game, but it's a just a case of can we do the little things to finish a game off, and we haven't done that. But today things worked out for us.
"Today, we gave up a goal, got one right back, then took the lead and gave up a bad goal. In the second half we were doing good things and it was an even game that could have gone either way.
"For the most part, I'm really happy with how the guys played and with how hard they worked. We've been preaching to play 80 minutes and they did so things are heading in the right direction."