Mustangs reach Pepsi semifinals with win over Deerfield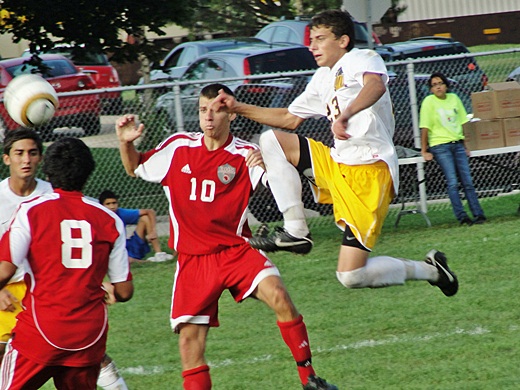 CLICK TO SEE MATCH PHOTO GALLERY

CLICK HERE FOR METEA VALLEY'S TEAM PAGE
By Matt Le Cren
Even with its back up against the wall, Metea Valley is never very far from scoring a goal.

The Mustangs demonstrated that Saturday with two lightning-quick strikes in a 2-0 victory over an otherwise dominant Deerfield club in Saturday's Pepsi Showdown quarterfinals in Western Springs.

Despite being in just its second year of existence, Metea Valley is now in the semifinals of the Pepsi, the country's largest regular season tournament.
The eighth-seeded Mustangs (4-0-2) will play No. 3 seed Lyons, the host school, on Sept. 17. Top-seeded Libertyville (7-1) takes on defending tournament champion and No. 7 seed Morton (7-1) in the other semifinal.

Metea's advance may be a surprise to those who aren't familiar with the program, but not to the players themselves.

"It was expected, but we knew we had to work to get there," senior midfielder Zach Bavol said. "I think I can speak for our whole team – we're pumped."

The play of Bavol is a big reason why, as he assisted on the game-winning goal, which came completely against the run of play. Sophomore Nate Donovan cleared a ball out of the Metea zone to Bavol on the left side.
Bavol won a challenge at midfield and was off to the races on a 2-on-1 counterattack with star striker Ryan Solomon, who shook off a defender and scored on a 12-yard shot to break a scoreless tie with 23:02 remaining in the second half.

"They had the ball for most of the time and we're a very good transition team, so once they played it out I knew I was gone," Bavol said. "I beat the one player and I had Solomon wide open, played it to him and, bam, goal."

Solomon faced pressure from a defender and the Deerfield goalie, but calmly maneuvered around them to break a scoreless tie.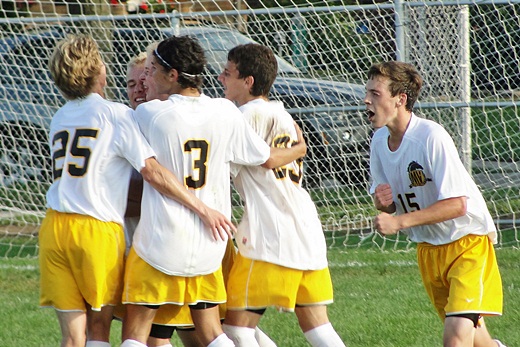 "Solomon is a strong kid," Bavol said. "Nobody can knock Solomon off the ball, so it was a great goal. Great job on his part."

It was a stunning turn of events for Deerfield (7-2), which had the Mustangs pinned in their own zone for much of the contest.

"When [Bavol] was off it's just a breakdown that you don't count on," Deerfield coach Elliott Hurtig said. "It was a tough play back there. [Solomon] had a nice finish, made a nice move and suddenly in a game that we feel like we're in complete control, we're down 1-0."

Being outshot 22-6 and on the wrong side of a 7-1 edge in corner kicks didn't faze the Mustangs, who know their speed can turn a game around in a hurry.

"They are a very skilled team, obviously, and they had us under it most of the game," Solomon said.
"Bavol just ran up and poked it through and when you see a whole lot of open field in front of you, it gets the adrenaline going, so we just started sprinting down field and got one in. Then once we got that one we were really stoked to get another one."

The Mustangs did just that at the 10:26 mark on another transition play. This time junior forward Jake Goehring did the honors, running onto a throw-in on the right wing and sprinting past the defense before finishing to the far post from 17 yards out.

Just like that, Metea Valley was in the final four of a prestigious tournament.

"That's what we're going for," Solomon said. "We're trying to make a name for ourselves. We talked about that last year but it was tough with [any seniors], so this year we're really working hard to get the Metea name out there.

"Last year we didn't really do anything in this tournament, so it feels really good to be going somewhere for once."

Deerfield star Joey Calistra is going to Northwestern, but he didn't get anywhere near the production he's used to in this match. Calistra, who has 16 goals, was held scoreless thanks to the defensive efforts of Franco Cattani, Blake Erwin, Brett Erwin and Evan Cudone.

"Franco, Evan, Brett and Blake all did well," Metea Valley coach Josh Robinson said.

"The kid is just a super-talented young man, but I think we did a good job of putting pressure on him and then supporting that pressure. It's kind of the way we play all the time, but I think we did a very good job against a very talented young man."

The Mustangs also got great performances from both of their goalies. Junior Gabe Gongora played the first half and made five saves and senior Derek Carothers added six stops in the second half.

"It's tough," Robinson said. "They're two fantastic players and they have to fight for one position, so we've been splitting them. Gabe's been starting strong and Derek's been finishing strong."

It could be the beginning of something special.

"We're really confident as a team," Solomon said. "We all came back from last year, which is nice. We have great chemistry. We know where guys are going to be and it's nice to know that.

"We're comfortable playing with each other. We all think we have some talent here, so hopefully we can keep playing well."